PVDF is finding new uses in challenging applications that require high purity while also being resistant to solvents, strong acids and bases. 
For food and beverage processing facilities looking to maximize productivity, the inherent properties of PVDF offer upgraded solution options from failures associated with brittleness, chemical or abrasion resistance.
PVDF has been used in piping and pumping applications, and is available in sheet, films, tubing, plate and as an insulator in high-quality wire. It's often used in the semiconductor, chemical, medical and defense industries as well as in lithium-ion batteries. 
In terms of tensile strength, PVDF outperforms most other polymers in common use with a rating of 7500 psi based on ASTM's D638 specifications at 23°C. For comparison, unfilled Polypropylene or Polyethylene would generally be less than 6000 psi, and Fluorinated Ethylene Propylene (FEP) would be less than 3500 psi at 23°C.
So why use it for modular conveyor belt applications? I asked Averie Palovcak, Arkema Inc. end use application engineer-Technical Polymers, to explain why this mature polymer is a good choice for conveyor belting. 
Averie Palovcak received both a B.S. and a M.S. in Biomedical Engineering from Drexel University. Palovcak has completed over 5 years of research on polymers used in drug delivery and has presented findings at Harvard University and at the American Chemical Society meetings. Palovcak has also been a featured speaker on the use of fluoropolymers for chemical handling at "The Chlorine Institute National Convention," "NACE – Corrosion 2017," "The Process Expo 2017," and "The Society for Mining, Metallurgy & Exploration 2018."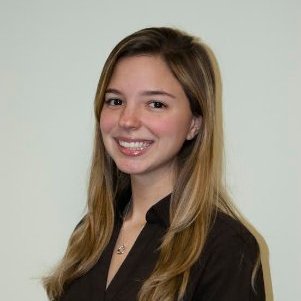 Averie Palovcak, end-use application engineer at Arkema Inc.
FE: Just how long has PVDF been around?
Averie Palovcak: PVDF was patented in 1948 and this patent was purchased by The Pennsylvania Salt Company in 1959. PVDF was first sold from a semiworks plant in Pennsylvania in 1964, and the first commercial plant was opened in 1965 in Kentucky. The first applications were all started in 1965 and were wire and cable insulation for backplane wire, pipes and fittings, and architectural coatings. It first received FDA compliance in 1964.
FE: Conveyors are often subject to harsh chemicals and rough handling? Why is PVDF a good choice for conveyor belting?
Palovcak: The carbon-fluorine bond, characteristic of fluoropolymers including PVDF, is one of the strongest bonds known to chemistry. This chemical backbone makes it resistant to a broad range of chemicals spanning from a pH of less than 1 up to 13.5. Additionally, PVDF is the strongest of any fluoropolymers, as its semi-crystalline backbone makes it have useful mechanical integrity up to 300°F. This semi-crystalline structure and overall polarity of the polymer make it one of the most non-permeable materials and resistant to dimensional change from swelling as well.
FE: Why is PVDF a better choice than other plastics?
Palovcak: PVDF is a strong, tough polymer and its abrasion resistance is higher than other plastics and even some metals. Its low coefficient of friction minimizes damage to food products and packaging during production. The table below shows data on PVDF versus other materials.
 
Abrasion Resistance [1] Taber Ring CS-10 (mg/1000 cycles using a 1 kg load)

| Materials | Mg loss |
| --- | --- |
| KYNAR® PVDF | 5-10 |
| Polyamide 6-10 (nylon) | 5 |
| PVC (rigid) | 12-20 |
| Polypropylene | 15-20 |
| CPVC | 20 |
| HDPE | 25 |
| 304 stainless steel | 50 |
| Mild steel | 100-300 |
| PTFE | 500-1000 |


PVDF also has incredible long-term weathering resistance, showing no mechanical breakdown or color changes after 50-plus years in harsh weathering conditions. For parts that are outdoors, PVDF may be the most reliable option.
PVDF has a history of use applications that require stringent flame and smoke properties. In its natural form, It has LOI (limiting oxygen index) values ranging from 42 percent up to 65 percent, and contributes very little heat, greatly minimizing the potential for flame spread. With certain additives and fillers the LOI can range up to 95 percent. With recent plant fires gaining media attention, PVDF grades that are ASTM E84 and UL 723(25/50) compliant may provide solutions for processors looking for more fire-resistant materials. 
FE: Why is PVDF a better choice than stainless steel for belting?
Palovcak: Unlike stainless steel, PVDF is a thermoplastic polymer and thus eliminates the headaches and concerns of rusting and corrosion. Furthermore, there is no need for costly maintenance such as electro polishing, passivation or corrosion inhibitors. PVDF is also more lightweight and thus installation and maintenance of PVDF components can be less labor intensive. 
The use of PVDF vs. stainless steel will offer a safety advantage in the process area where the reduction of metallic sharp edges can be eliminated with the use of a hard, but non-sharp edged polymer. 
FE: Where PVDF belting comes into direct contact with food, can any of the material leach out into the food? How does it compare with metal belting in that respect?
Palovcak: Virgin PVDF is a pure polymer and thus has no additives or stabilizers that would leach out of the belt and compromise food purity. Data has shown that PVDF has much lower extractables than stainless steel components. Another added benefit of is purity has been noted in the beverage industry, where processors have used PVDF to minimize the risk of metallic taste and flavor absorption. 
Purity data showing extractable elements from PVDF and stainless steel [2]

| Element | PVDF (ppb) | Stainless steel 316L (ppb) |
| --- | --- | --- |
| Sum of Pb, Ag, Hg, Cu, Co: | 0.66 | 0.64 |
| Sum of Ca, Mg: | 3.94 | 122.83 |
| Sum of Fe, Na, Cr, Mn, Ni, Zn, Mo: | 2.64 | 89.19 |
| TOTAL: | 7.24 | 212.66 |

FE: Belting often undergoes highly acidic and strong alkali clean-in-place (CIP) steps. How well does PVDF survive these extreme chemical and temperature excursions? 
Palovcak: PVDF has a UL RTI rating of 150°C in its natural form, meaning that it can be used in some chemicals up to that temperature. Therefore, it can perform well in steam cleaning applications as well as chemical sanitation environments. It would be best to consult the material supplier for a full list of chemical and temperature capabilites. We have found, however, that new strong acidic CIP steps, especially with peracetic acid, may pose a threat to other materials but are no match for the chemical resistance of PVDF. 
FE: Won't these chemical attacks make the polymer brittle, able to break easily? How does PVDF compare to other polymers in this respect?
Palovcak: It is well known that acids will break down polymers like acetyl, simply by attacking the molecular backbone of this family of resins. Polymer embrittlement due to chemical attack can be the cause of plastic parts breaking off into foods. While this is the case for other materials, PVDF is inherently stronger, abrasion resistant and more chemically resistant, greatly reducing the chances of polymer failure in chemical environments. 
FE: Potentially, a conveyor may be exposed to bright light sources. Is this a problem for PVDF?
Palovcak: PVDF has inherent UV and natural light resistance, which has led to one of its biggest global uses as a high performing architectural paint system as well as the back sheets for solar panels with expected life of over 25 years.
FE: In general, how does the price of PVDF compare to belts made of other polymers? 
Palovcak: PVDF is an upgraded solution to other polymers and thereby may be a higher cost upfront compared to traditional plastic solutions. However, this initial higher cost can prove better in the long-term, as a PVDF belt is more robust, leading to less plant down time allocated for belt repair or replacement. 
FE: If a PVDF belt is carrying raw meat and is subjected to a harsh chemical CIP daily, what kind of lifetime should be expected from the belt (assuming it runs two shifts before cleaning)?
Palovcak: As a material exposed to the chemicals, PVDF should have a life of tens of years. However, as it relates to wear and tear of the belt system it is better to take each job on its own based on the mechanical parameters. The final recommendation of life expectancy should come from the belting manufacturer and designer, but it is reasonable that PVDF should hope to provide a minimum of 2X the life of standard belting materials used up to now.
FE: Does the use of PVDF in conveyor generally meet FDA and 3-A specifications? What other specifications should PVDF meet in food and beverage applications?
Palovcak: PVDF is compliant to FDA 177.2510 and 177.2600 for repeated contact with food. Additionally, it is 3-A compliant, USDA complaint, and is listed to NSF 51 and NSF 61. Kynar® PVDF is also certified as Kosher.
FE: How does a processor know when a PVDF belt has reached the end of its useful life? 
Palovcak: Again here, it would be preferred to have this discussion with the belt manufacturer depending on the design and the expectations of the system.
FE: If a processor's belting supplier doesn't offer a PVDF option, what's the next step?
Palovcak: Please contact the Technical Polymers division of Arkema Inc. for more information on PVDF belting and supplier information. Additionally, you can simply discuss with your preferred belting supplier the option of PVDF. If they are injection molding or extruding any polymer, they should be aware that PVDF is readily processed on the same type of equipment as typical polyolefins. 
FE: Besides belting applications, where else in the food and beverage industry does PVDF find use?
Palovcak: PVDF has an established history of use in beverage tubing, piping, pumps, and other fluid handling applications in the food and beverage industry. You can find PVDF used in containment and processing of dairy applications where bleaches are used as cleaning agents, soft drinks, coffee machines, hot sauces, alcoholic beverages and strongly acidic juices.
FE: What else should processors know about PVDF?
Palovcak: For situations where plastic, or even metal belting, is giving processors trouble, PVDF belts may offer a new solution. We are seeing processors implement these belts in harsh chemical environments as well as environments where cutting and other abrasive procedures are taking place.
 
---
References
Hanselka, R., Williams, R., Bukay, M. "Materials of Construction for Water Systems Part 1: Physical and Chemical Properties of Plastics". ULTRAPURE WATER. pp 46-50. (July/August 1987).
Sixsmith, T.; Jackson, J. "How Piping Materials for the Pharmaceutical Industry Compare to Each Other", ULTRAPURE WATER 19(4), pp. 53-56 (April 1999).