Software Deployment, Backups and Network Security
As more of the food manufacturing process becomes automated and/or software driven, processors face new challenges when it comes to deploying new software, ensuring all software is up to date, backing up data and protecting their networks. As you will see in the cybersecurity feature in this issue, protection of intellectual property and control capabilities are a real concern, and processors must take steps to ensure they're safe and secure.
A new category in the survey this year was "Current Methods Used for Software Applications Deployment," as we asked processors how they are rolling out new or upgraded software applications. As the use of cloud-based systems has become more common, the food manufacturing industry is adopting it as well, but it hasn't taken over yet.
Almost half of respondents (46 percent) say they are still using on-premises servers only, while a mixture of cloud-based and on-premises servers was also chosen by 46 percent of respondents. Only 8 percent say they are using only cloud-based methods to deploy software. For those companies saying they use both, it may be the case that companies with multiple facilities are using on-premises servers at the main location, while using cloud-based systems for remote deployment.
Only about a third of respondents say they use full back-up through an edge server while deploying software applications, but the majority (56 percent) of respondents say they're not sure. Only 13 percent say they do not use a full back-up. Among those who do full back-ups, both integrated and non-integrated applications were popular choices.
As for network security, respondents were allowed to choose multiple responses to best show how they protect their networks. Here's a look at the top five responses.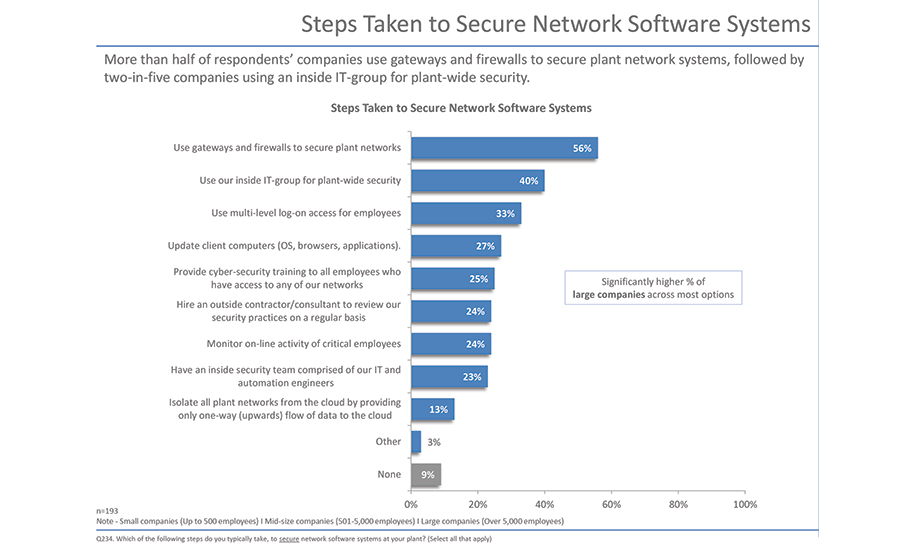 Click image to enlarge
Top 5 Steps Taken to Secure Network Software Systems
1. Gateways and firewalls: More than half (56 percent) say they use gateways and firewalls, which is not surprising based on best practices for IT security. Gateways and firewalls are fundamental pieces of network security, and food processors are adopting them as part of their cybersecurity strategies.
2. Using an inside IT group for plant-wide security: A full 40 percent of respondents say they use their inside IT group for plant-wide security, which is also unsurprising. Most mid-size and large companies, and even some small ones, have dedicated IT people, and they lead the way in ensuring that all networks and all equipment that can connect to the networks are safe and secure.
3. Multi-level log-on access for employees: A single-level log-on for employees—where employees simply enter their passwords and are allowed in—is convenient, but not very secure. Everyone's heard the stories about employees who write down their passwords at their workstation or something similar, and the reason everyone's heard them is because they happen all too often. A multi-level log-on process, such as requiring an employee to also enter a code sent to a mobile device, requires more than just a simple password, and offers an extra layer of security to prevent someone from stealing a password and wreaking havoc.
4. Updating client computers: Keeping computers up to date with software updates and security patches helps guard against outside actors being able to take advantage of security exploits in operating systems or software. Cloud-based systems help expedite the rollout of security and software updates, as well as giving IT personnel the ability to keep track of what computers have and haven't been updated.
5. Cybersecurity training: More common among midsize and large companies, cybersecurity training helps employees understand the role they play in keeping networks secure. Operators may not realize the role they play in network security unless they're trained on potential vulnerabilities and how they can guard against them.


Improving Productivity
As processors look to improve productivity, respondents identified a number of areas where their locations or companies can improve. While a number of respondents identified common areas such as equipment upgrades, improved maintenance systems and improved skills training, the three areas that received the most responses as a "great need" are as follows.
Improved marketing/production communication (24 percent)
Improved communication between manufacturing levels/areas (23 percent)
Increased flexibility on existing lines (17 percent)
As the survey shows, one of the most effective steps processors can take to improve productivity is to improve communications between different areas or departments. Communication between production and marketing departments was not only listed as a "great need" by 24 percent of respondents, but was listed as at least some need by 71 percent of respondents. Improved communication between manufacturing levels/areas was listed as a need by 68 percent of respondents.
While skills training, equipment upgrades and supply chain management are all important aspects of improving productivity, responses in the communication areas show that processors may be best served by trying to improve communication in addition to addressing the traditional concerns.


Food Safety Methods in Use
As FSMA comes fully online, processors need to have food safety processes and procedures in place. Respondents were allowed to pick multiple responses, and here are the top five food safety methods they chose.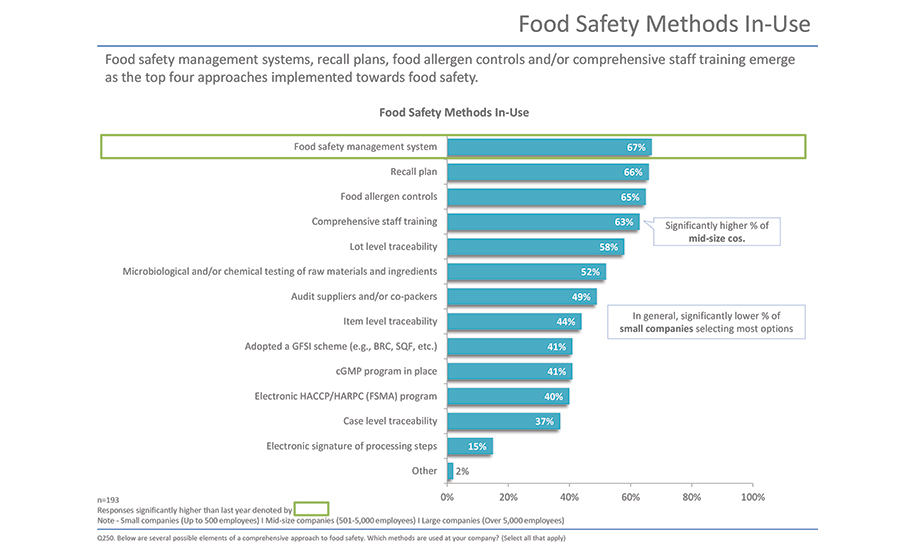 Click image to enlarge
1. Food safety management system (67 percent): Fully two-thirds of respondents say they have a food safety management system in place, which is an increase from 56 percent of respondents in the 2017 survey. Food safety management systems, whether automated, manual or a hybrid of the two, offer processors a way to ensure that they are in compliance with FSMA and other food safety regulations by providing a documented plan for managing food safety.
2. Recall plan (66 percent): This number is unchanged from the 2017 survey, which isn't surprising. Recalls are expensive, time-consuming and potentially damaging to the company's livelihood, so having a plan in place is critical to ensure that recalls are conducted properly and efficiently.
3. Food allergen controls (65 percent): One of the major drivers of recalls is undeclared or unintended allergens in products, so processors that have a robust allergen control plan can help avoid those recalls. Taking steps such as route planning for materials through the plant, using color-coded utensils, production scheduling (e.g., running egg products on the line last) and washdown schedules can help ensure allergens stay out of allergen-free products.
4. Comprehensive staff training (63 percent): Food safety plans are only as good as their execution, and comprehensive training helps ensure they are followed by production personnel. Human error is a common reason for recalls or having to trash product due to food safety or cross-contamination concerns, and training helps cut down on those incidents.
5. Lot level traceability (58 percent): Automation and tracking software help processors keep track of ingredients from the time they come in the door until they leave as finished products, and in some cases even before they enter the plant. Being able to trace products and ingredients as far as possible can help prevent food safety problems from slipping through.
 
---
> See more State of Food Manufacturing reports
---
The information in this article comes from: Clear Seas Research, 2018 Food Engineering State of Food Manufacturing, October 2018. Clear Seas Research is a full service, B-to-B market research company focused on making the complex clear. Custom research solutions include brand positioning, new product development, customer experiences and marketing effectiveness solutions. Clear Seas offers a broad portfolio of primary, syndicated research reports and powers the leading B-to-B panel for corporate researchers, myCLEARopinion Panel, in the architecture, engineering, construction, food, beverage, manufacturing, packaging and security industries. Learn more at https://clearseasresearch.com/foodengineering.