In the mid 20th century, processed foods started to become a staple for many busy Americans as a meal prep shortcut. Ready-made, easy-to-prepare foods offered quick, convenient meals to feed individuals and families. 
Today, however, people are generally more aware that processed foods are a far less healthy option than fresh ingredients. Consumers across all age groups are becoming more intentional about their eating habits, focusing on nutrition, healthy ingredients and how their food choices impact sustainability.
As dietary habits in the U.S. shift toward healthier options, one trend hasn't changed: Americans are still busy and seek meals that are fast and easy to prepare. As a result, an increasing number of people are turning to grocery delivery and meal kit services to meet their desire for nutritious meals and their need for convenience.
Millennials and Generation Xers make up the dominant customer base for meal kit services. This marks a departure from the processed food purchases of the generation that came before them, and it's already showing signs of influence on the generation following them. The U.S. meal kit market is a $7 billion industry, and it is estimated to grow to $64.3 billion by 2030.
This trend leaves individual grocery delivery and meal kit companies with a tremendous growth opportunity—and the task of keeping pace with exploding demand. 
The Distribution Challenge
Packaging and shipping any kind of consumable good come with its challenges, but perishable food items require particularly unique solutions.
For starters, there is the time element: Faster shipments mean fresher contents and the window of opportunity to get perishable food to consumer doorsteps before it spoils is tight. The industry standard among carriers for perishable food transit time is under 30 hours. That doesn't, however, account for the time it takes for food orders to be processed and packaged at fulfillment warehouses. 
The packaging process needs to run smoothly and efficiently because the risk of spoilage and contamination is so high with shipping perishable food—and because grocery and meal kit services tend to move high product volumes. It's also important that cases and other packaging materials are robust enough to protect perishable goods for safe, secure transit through the rigors of shipping en route to their destinations. 
Even if the contents inside a case are ultimately intact and unspoiled, damaged boxes and tape seal failures are both indicators of tampering or potential contamination that frequently result in customer returns, complaints and make-goods—all of which can result in lost revenue and negative reviews that harm the brand.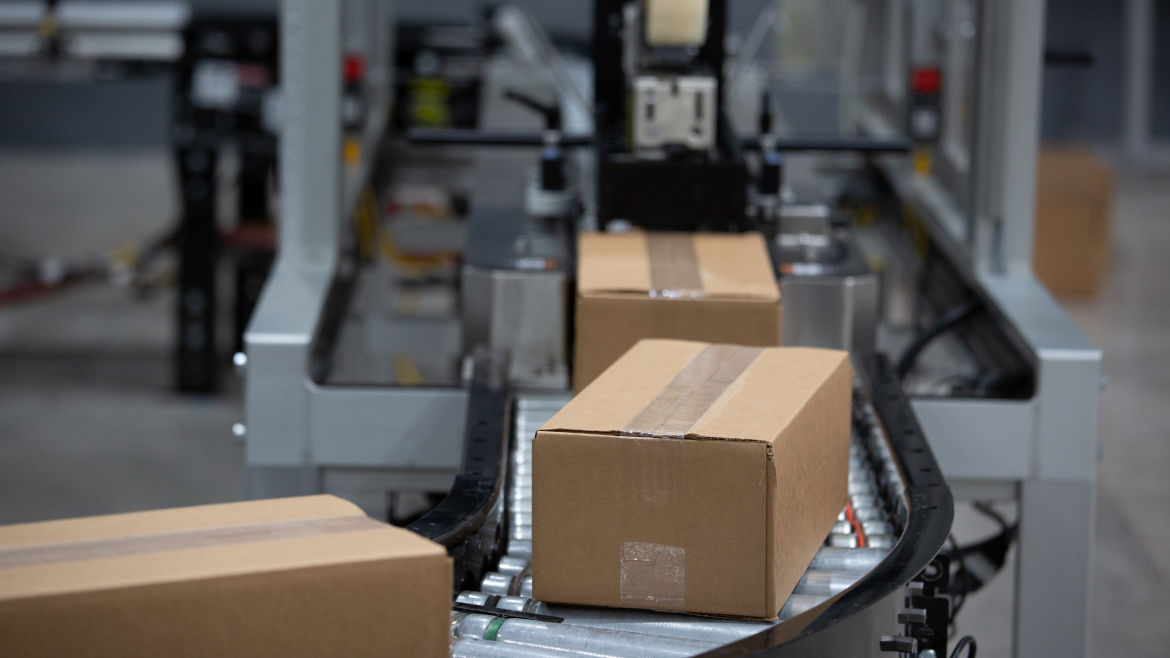 Automated Solutions
 With perishable foods, the packaging process and the packaging materials both play a significant role in protecting product—and a business's bottom line. 
In terms of process, the quantity and quality of reliable labor continues to pose challenges in packaging and order fulfillment. As the volume of orders processed increases, more and more grocery delivery and meal kit brands are turning to automated solutions to streamline their packaging lines, protect business disruption due to labor shortages and ensure packaging consistency. From case erectors to case sealing machines to palletizers, the influx of automation positions grocery and meal kit operations to better meet current demand and scale upward when demand increases.
Hungryroot, a popular online grocery and recipe delivery service that launched in 2015, is one example of automation in action. The company processes approximately 40,000 grocery boxes weekly across U.S. fulfillment centers on the East and West Coasts and a central location. 
Laura Kershaw, a packaging engineer at Hungryroot, notes that the company recently implemented an automated solution to enhance packaging line efficiency and reduce customer complaints of cartons opening during the shipping process. 
"We started realizing our deliveries had a case sealing issue as tape would come off our boxes while in transit," says Kershaw. "In an effort to create a better experience for our customers, we wanted to find a solution to standardize case sealing across our network."
With the new system, all Hungryroot fulfillment centers standardized to automated case sealers with high-performance applicators and reliable hot melt packaging tape.
Packaging line operators can now push a case through the automated applicator for a secure seal, rather than manually sealing each carton. This saves valuable incremental time with each case, adding to large-scale cost savings overall. More importantly, it addresses the issue of secure Hungryroot packages.
"More than anything else, the change was the right thing to do from a customer perspective," says Kershaw. "Having customers receive boxes with tape coming off is not the experience we want to provide. We're grateful to have reliable tapes for our deliveries."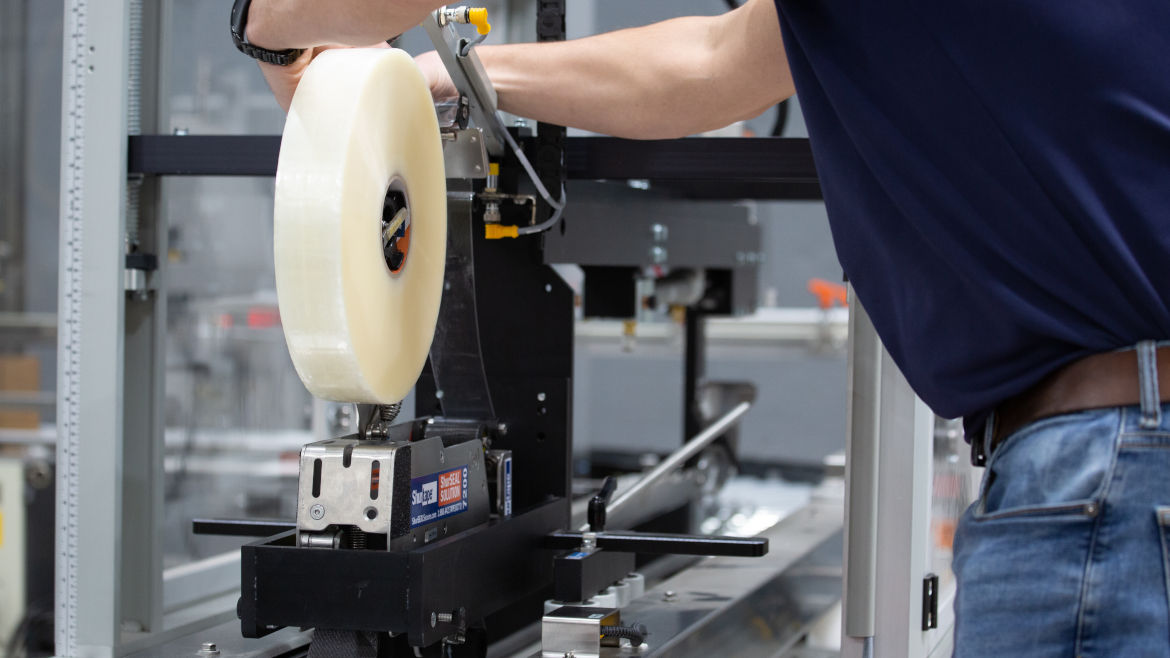 Material Matters
Automated case sealing is a highly effective way to prevent time inefficiencies, inconsistent seals and even worker injuries from the repetitive motions of manual sealing. But automation is only as reliable as the components and packaging materials involved. The packaging tape and applicators' quality is an especially important consideration.   
When selecting packaging tape, it's natural to consider price the primary driver in the decision-making process. But a lower-cost packaging tape can mean lower quality, which comes with risks of mechanical failures that may be a bigger cost to the bottom line—and a brand's reputation with consumers—than a higher-quality tape at a slightly higher cost.
Tapes can break in the middle of the packaging line run, which causes delays in every part of the process downstream, resulting in unplanned downtime, wasted packaging material and—in the worst scenarios—damage to expensive equipment. High-caliber hot melt tape offers superior strength, making it one of the most durable tape types on the market and the most apt solution when working in conjunction with automated case-sealing equipment.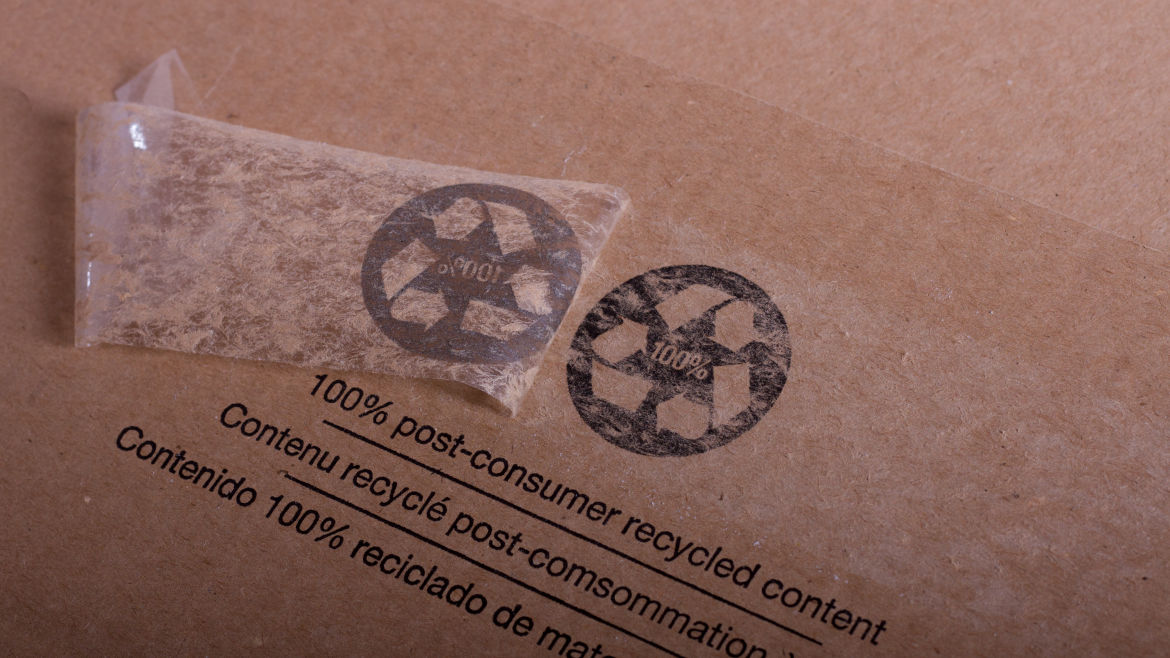 Another challenge is that shipping cases are increasingly constructed of high or even 100% recycled corrugated cardboard. Highly recycled cases are a great step forward for sustainability efforts, but recycled surfaces are notoriously difficult to adhere to for some packaging tapes. To help prevent tape failure and cases that open during transit, look for a quality hot melt tape that can form an instant and permanent bond to a wide variety of substrates and surfaces.
Additionally, many perishable food items must be packaged in lower temperatures to keep them fresh. Depending on how low the temperature is, a cold environment can pose challenges for a tape's adhesive to form a bond. When selecting packaging tape, be sure to look for a manufacturer that specifically offers cold environment hot melt tapes to ensure that cases can be securely sealed in lower temperatures and remain sealed after they leave the packaging line.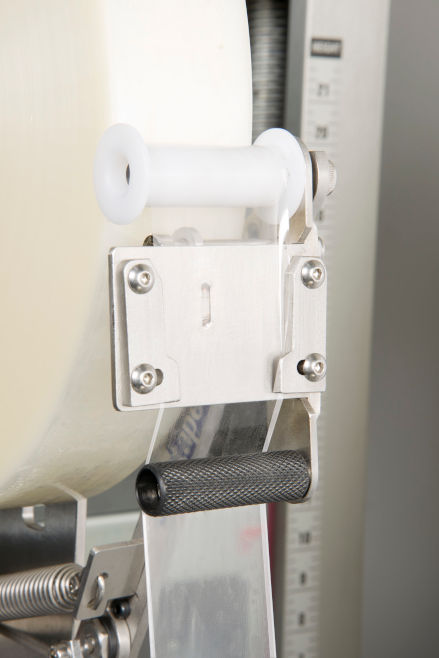 Tape applicators are also important components in automated systems. Applicators are designed to deliver consistent, downward pressure for a reliable seal, without manual intervention.  But some manufacturers also engineer innovations into their applicators to enhance business productivity and improve customer experience.
For example, applicants with a quick-change system offer the ability to quickly change tape rolls when one roll runs out — a typically slow process that decreases productivity. Quick-change applicators can reduce downtime, which is especially beneficial for high-volume operations that go through many tape rolls.
Some applicators offer accessories that fold the lengthwise edges of the tape over during the application. Folded edges offer two primary benefits: They strengthen the tape to reduce the risk of it being nicked and broken during handling and transit, and they create a safe, easy opening option that allows consumers to open the case by hand, without the need for a knife or sharp instrument. Attention to details like these protects the product and offers opportunities to delight customers in small ways that help build brand loyalty.
The Bottom Line
With the grocery delivery and meal kit industry set to continue its fast-paced growth in the coming years, secure packaging for perishable food items is essential for smooth operations and successful businesses.
From packaging processes to the materials used, there are various ways to protect and secure perishable food products for customers, all while bolstering efficiency and profitability along the way.