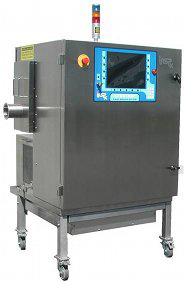 Fermata's high-speed image acquisition and processing system assures a high-resolution inspection at speeds in excess of 600 feet per minute. With a four-inch diameter pipe, the system can inspect at rates greater than 300 gallons per minute. Source: InspX.
Founded over 30 years ago, Custom Food Products (CFP) is a national protein supplier to chain restaurants and food manufacturers. CFP is a $170 million operation and employs 400, with processing facilities in Carson, CA and Owingsville, KY.
At both of its state-of-the-art processing facilities, CFP has received dual certifications from the Global Food Safety Initiative (GFSI) and British Retail Consortium (BRC). CFP's operations are BEV product requirement-approved for several countries, and Halal certified as permissible for Islamic consumers.
The processor recently invested in a new InspX brand ScanTrac X-ray inspection system, as part of its continuous improvement program. This is the fourth such investment CFP has made in X-ray technology in its manufacturing facilities since 2007.
The new ScanTrac Fermata pipeline X-ray inspection system will scan meat and poultry as they pass through piping. The closed-cabinet system X-rays the product in a high-resolution screening process, detecting unwanted foreign objects as small as 1mm in diameter, such as packaging residue, non-edible fragments or naturally occurring bone particles. The system can safely inspect more than 15,000 lbs. of meat per hour.
Any meat that fails to pass Custom Food Product's stringent quality control requirements is automatically discharged from the processing flow via a pneumatic valve assembly.
"Investment in cutting-edge safety technology like the InspX ScanTrac is an investment in the safety of our clients and their consumers," says Jon Hickerson, president and chief operating officer of CFP. "You can't put a price on safety and trust. We take that responsibility very seriously. This technology helps us provide a safer, better product."
Most food processing facilities employ metal detection systems, but it is not yet typical for meat processing facilities such as Custom Food Products to invest in advanced foreign material prevention measures such as X-ray technology, although retailers like Costco are demanding the use of X-ray systems from their suppliers.
For more information: Jon Hickerson, at 310-637-0900. Visit the InspX website.