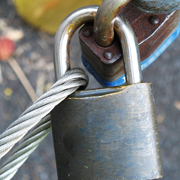 Locking bad people out at the perimeters will not prevent a criminal act committed from within.    Photo: W. Labs
"Who are you going to call? Who's on your to-call list?" These questions were asked at Food Safety Summit's April 17th afternoon presentation, Interactive Defense Workshop with Government and Industry Representatives. Led by Jason P. Bashura, general health scientist with FDA's Food Defense Oversight Team, it was obvious from audience participation much work has yet to be done to prepare for a potential crime involving the poisoning of food—whether it's an act of terrorism originating from outside the fences and walls of the processing facility or an internal act, such as that of a disgruntled employee.
When it comes to a foodborne illness recall, most processors have a plan. But with a willful act of food contamination, the situation must be handled with a different set of parameters. Bashura posed a hypothetical situation—a case where an ingredient is contaminated with cyanide. Would a processor be ready to shut down its operation? Would the processor be ready to pull the product off the shelves? Who will make these decisions and how? What trade association can help with such an attack? "I'm not talking about decisions that need to be made next week, I'm talking about decisions that have to be made in two to three hours," said Bashura. "Gates, guns, guards and dogs—if you will—only provide a layer [of protection]." Optics (video cameras) and vigilance can add an extra layer of protection.
What makes food defense so much more problematic than foodborne illness is that no motives are involved in a straightforward, accidental Salmonella or E. coli contamination. But with a willful contamination of food, the criminal mind can add dimensions that step up the complexity of the case, which can only be solved with the involvement of crime experts, several laboratories with varied capabilities and the list goes on. Media involvement may also compound the complexity of the case.
Bashura asked the audience if anyone was aware of the free tools available on government websites to help processors with a food defense strategy and system. Judging from the show of hands, less than 5 percent of the audience seemed to know these tools exist.
Based on one of these tools (FDA's Free-B), Bashura walked the audience through a scenario and elicited responses on the steps that should be taken when an event occurs. In the scenario, participants at a beer-and-burger party—as well as other people who ate local fast-food burgers—had rapid heartbeats and were taken to a hospital emergency room.  The audience thought a bacterium was the cause, until they were told about the toxicology reports. Track-and-trace issues came into play, along with contacting local authorities, FBI, CDC, FDA and USDA. A review of the plant video actually showed a disgruntled employee putting something (it turned out to be ephedrine) into the meat when no one else was present, save for a CCTV camera. The point of the exercise was to show that, in most cases, processors are not prepared for such an eventuality. But there is help available. Bashura listed some examples for processors to consider:
FDA Food Defense & Emergency Response
Food Related Emergency Exercise Bundle (FREE-B)
Public Health Emergency Preparedness and Response (Centers for Disease Control)
What is disaster recovery and how do you plan for it? – A guide for businesses (Comparitech)
Office of Homeland Security and Emergency Coordination (USDA)
Food Defense & Emergency Response (FSIS, USDA)
Homeland Security: Food and Agriculture (EPA)
Department of Homeland Security
FE articles on food defense:
National security at the dinner table: Changes aim to align national security with food safety (PDF only)
Plant Security: Thwarting the Intent to Harm
Plant Security: Access Granted
Tighter food defense requirements seen by security expert