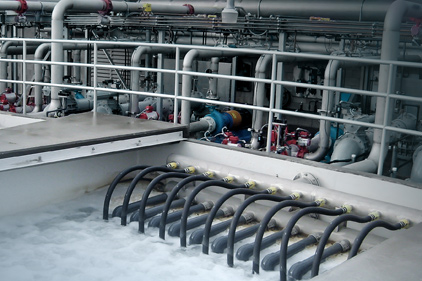 At the heart of PepsiCo's Santiago integrated reuse solution, the MemPulse membrane bioreactor system from Siemens' Industry Automation Division will separate and treat liquids and solids.
Source: Siemens.
With the lack of rainfall in the heartlands causing grain futures to trend upward and water shortages on everybody's mind, conserving and reusing water has been a major push for several food and beverage processors. Recently, ConAgra Foods' internal Sustainable Development Awards program, has conserved more than 295 million gallons of water. For example, ConAgra's Lamb Weston plant in Hermiston, OR reduced its daily water usage by 24 percent.
Pepsico's Frito-Lay Casa Grande manufacturing facility, in competition with municipal water treatment plants, won a 2012 US Water Prize from the Clean Water America Alliance. The facility, which was named Food Engineering's 2011 Sustainable Plant of the Year, recycles 75 percent of the plant's process water, enabling the facility to reduce its annual water use by 100 million gallons. The plant is also working toward zero waste in utilities and energy usage.
The Coca-Cola Company has developed and tested at commercial scale what it claims is "a first-of-its-kind beverage process water recovery system" to produce high-quality water that meets and/or exceeds drinking water standards for use in its non-product activities such as clean-in-place and bottle washing. The system expands the range of manufacturing applications for recovered process water and "sets a precedent for conservation and reuse in the beverage industry."
"Because responsible water management is at the heart of a sustainable future, overcoming today's water challenges calls for extraordinary action," says Bea Perez, Coca-Cola chief sustainability officer.
The beverage process water recovery system takes highly treated process water and further treats it using state-of-the-art technologies: biological treatment in a membrane bioreactor (MBR), ultrafiltration, reverse osmosis (RO), ozonation and ultraviolet disinfection.
Coca-Cola estimates this new water reuse approach could save as much as 100 billion liters (26.4 billion gallons) of water annually if implemented across all its bottling plants. The company expects to be able to reduce operational water needs and improve water use efficiency by up to 35 percent.
PepsiCo takes a holistic approach to saving water rather than focusing on a single technology, according to Gina Anderson, beverages spokesperson. Already successful with the snacks side of the business, PepsiCo developed a ReCon tool that allows manufacturing facilities to conduct self-audits of their water management practices, and identify and respond to water conservation improvements by mapping all water-use streams within the facility and assigning relative values to each of them based on the local cost of water. The tool was developed to facilitate the rapid transfer of best practices around the world for water, energy, waste and GHG reduction.
Since 2009, the ReCon water conservation tool deployment has helped sites across the world identify 2.2 billion liters of water savings with a corresponding cost savings opportunity of nearly $2.7 million.
In addition, PepsiCo's snack food production plant in Santiago, Chile is upgrading its wastewater treatment capacity by 20 percent, and expects to reduce up to 70 percent fresh water consumption using a Siemens integrated reuse solution. The upgraded system is expected to become operational this year.
The integrated water system will reduce the amount of fresh water used in making potato chips and other snack food lines at the plant by an estimated two-thirds. Water savings will be accomplished by taking the initial water used in production, extracting the impurities and cycling it back into the production systems. Wastewater treated by the Siemens system will be used in various internal manufacturing processes.
The installation is part of a corporate initiative to help standardize water reuse in PepsiCo facilities throughout South America. At the Santiago facility, most of the wastewater first passes through a starch recovery system and is screened before moving toward primary treatment, which includes oil and grease removal. After this stage, it flows to an MBR system to separate and treat liquids and solids. From there, the water is pretreated before it passes through a tertiary treatment, including RO and an ultraviolet disinfection system, both from Siemens.