New Products
Technology Sourcebook
Modular safety fencing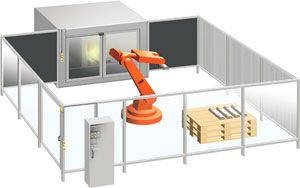 ABB JOKAB Safety Quick-Guard modular safety fencing panels can be custom designed and configured to guard virtually any industrial application. Consisting of a limited number of parts, the modular system is delivered partially assembled with all the necessary fittings. The welded mesh and/or polycarbonate panels are locked into the aluminum profile. The outer wire of the mesh is locked in profile fence posts by net locks, while the polycarbonate panels are locked in with infill strips that secure them in the extruded aluminum profile channel. All the materials are 100% recyclable.
ABB JOKAB Safety; 888-282-2123; www.jokabsafetyna.com


I want to hear from you. Tell me how we can improve.