New Products
Technology Sourcebook
Mezzanine safety gate
The Benko Protect-O-Gate Clear-Aisle mezzanine safety gate requires only 10 in. of floor space when closed at the mezzanine ledge. Featuring a double-gate design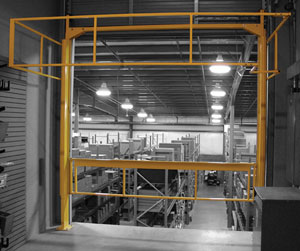 and 3-sided load access, the OSHA-compliant safety gate is counterbalanced for ergonomic manual operation; an optional powered operation includes remote controls. Standard single- and double-pallet models are painted safety yellow, and are available in a corrosion-resistant finish or stainless steel.
Benko Products, Inc.; 440-934-2180; www.benkoproducts.com


I want to hear from you. Tell me how we can improve.