New Products
Technology Sourcebook
Bulk pasteurization system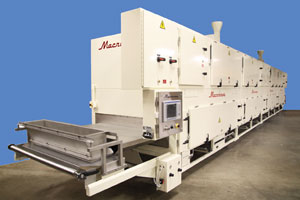 The Radio Frequency Company Macrowave RF bulk pasteurization system uses a high-frequency electric field to control pathogens. Material is conveyed, in bags or in bulk, through an electrode array where an electric field causes it to heat uniformly throughout its thickness. The system operates at 40MHz for effective microbe kill while avoiding deleterious effects on product quality and functionality. It is an "instant-on, instant-off" system, using energy only during the treatment process.
Radio Frequency Co., Inc.; 508-376-9555; www.radiofrequency.com


I want to hear from you. Tell me how we can improve.