Founded in 2001, GoldCoast Salads is a highly successful family-owned business that produces premium products including genuine Maine lobster, blue crabs and smoked salmon, lobster and shrimp and tuna spreads. As part of an expansion into a new processing facility, GoldCoast Salads installed a customized washing tunnel that will further ensure its food buggies will be cleaned and sanitized.
"Not only does the new system completely wash and sanitize, it helps prevent contaminants or bacteria from reaching the food processing area," says Director of Operations Adam Radno. "Food safety is critical throughout our industry, but it is even more critical for us because our products are RTE [ready-to-eat], and there are no post-production safety measures such as post-pasteurization. This new tunnel washing system helps ensure we continuously maintain our stringent safety standards.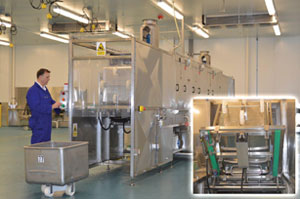 A GoldCoast Salads operator checks the controls on an ET75 tunnel washing machine, which has completely automated the buggy cleaning process, and kills any bacteria that may be looking for a free ride through the plant. Inset photo shows a buggy in an inverted position. Source: CM Process Solutions.
"Up until recently, we were cleaning buggies by hand," adds Radno. "Operations included hose washing, hand scrubbing and drying, very time-consuming processes." Radno explains the starting point for his washing system research was simply to automate the process. Many designs were not fully automated, and required manual loading and unloading. Others used conveyors that spray the containers as they pass through, which did not appear to be thorough enough to meet GoldCoast standards.
Radno wanted auto-loading and unloading, as well as complete washing, along with a sanitizing hot water and chemical rinse. And he was concerned about the washing system's ability to handle more than one size of buggy.
He decided to visit CM Process Solutions of Corona, CA, a manufacturer of hygiene and food processing equipment. He looked at tunnel washers, which are designed to offer a continuous, inline washing solution for buggies, trays, bins and other containers. This type of system not only cleans and sanitizes thoroughly, it also offers a wide range of options, including various heating methods including gas, steam coils, live steam injection and electric.
Convinced that the tunnel-style system would work, Radno inquired about other possibilities, including automating the loading and unloading of the 400- and 600-lb. buggies, which weigh about 75 and 95 lbs. each. He was also concerned about throughput. "The engineers at CM worked closely with us to ensure each system feature we wanted could be included. In the end, we chose the ET75 tunnel washing system," says Radno. "But while it was a highly customized system, the cost was in no way exorbitant."
 Able to handle up to 75 buggies per hour, the new washing system automatically lifts and mounts each buggy in an inverted position to enable thorough washing of internal surfaces. Both the 400- and 600-lb. buggies are recognized by the system and handled according to size. Each buggy is transported through the system's tunnel by a stainless steel chain conveyor. After the wash process is completed, the buggy is automatically unloaded and delivered to the floor level, for the operator to remove it.
For more information: Mark Corser, 951-808-4376, m.corser@cmpsolutions.net