New Products
Technology Sourcebook
Sensor interface module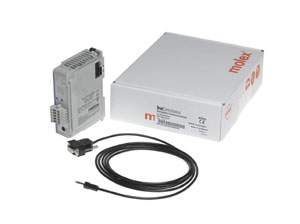 Molex Brad SST actuator sensor interface modules connect Rockwell Logix control systems, including CompactLogix, MicroLogix 1500 and ControlLogix, to an AS-interface network; they provide an open Fieldbus solution for connection between the PLC backplane and simple field I/O devices such as actuators, sensors, rotary encoders, analog inputs and outputs, push buttons and valve position sensors. The modules are suitable for multiple industrial automation applications including conveyor control, packaging machines, process control valves, bottling plants, electrical distribution systems, bottling lines and food production lines. They come bundled with cables and configuration software and feature diagnostics that help identify configuration errors and network faults.
Molex Incorporated; www.molex.com


I want to hear from you. Tell me how we can improve.