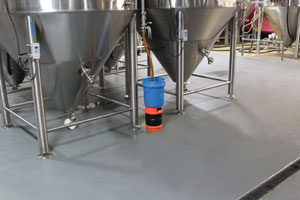 Dur-A-Flex's Poly-Crete cementitious urethane resilient flooring system handles kegs, forklifts and the ever-present ingredients and chemicals that hit the Sun King brewery floor daily. Source: Dur-A-Flex.
It had been more than six decades since the city of Indianapolis was home to a full-scale production brewery. So it was with great gusto that Indy beer connoisseurs raised their glasses and welcomed Sun King Brewery in 2009 with a resounding, "Cheers!"
Since then, Sun King has tapped into the growing microbrewery industry, securing a spot as the second-largest beer brewer in the state of Indiana. The company's commitment to handcrafted seasonal and specialty beers has been rewarded with multiple medals at the Indiana Brewers Cup, Great American Beer Festival and World Beer Cup competitions.
On a daily basis, Sun King welcomes visitors to its facility for tours, growler fills and can and keg purchases of their house and seasonal beers. Naturally, an aesthetically pleasing atmosphere is critical, including an easy-to-clean floor that effortlessly handles a wet environment.
Not long after opening its doors, Sun King's owners realized a flooring upgrade lay on the horizon. "The concrete alone could not withstand the rigors of beer making and needed some form of protection," says Owner Omar Robinson. Since bare concrete is extremely porous, the daily washdowns and thermal cycling were taking a toll on production area surfaces.
Faced with several traditional flooring options, Robinson consulted with his partners and says they went with their gut instinct and decided seamless flooring was the way to go. "We didn't want a tile floor due to the chipping and cracking if something was dropped, or something heavy was placed on it. And we didn't want to deal with constant repairs or grout," explains Robinson.
Robinson contacted Dur-A-Flex's approved contractor, Preferred Global, Inc. of Indianapolis, for the install. "Preferred delivers what they promise. They have excellent customer service and were able to work within the time crunch," he says. Preferred Global chose Dur-A-Flex's Poly-Crete cementitious urethane system for the facility. Formulated to withstand impacts, this resilient flooring system easily handles kegs, forklifts and the ever-present ingredients and chemicals that hit the floor daily.
Robinson's concern about time was driven by his need to reduce any downtime and impact to production. Knowing this, Preferred Global worked around Sun King Brewery's schedule, simultaneously installing the floor while production surged on. The results were on-time installs that allowed Sun King Brewery to eliminate revenue loss while improving its facility. "Preferred worked around our schedule so our production was not disrupted," says Robinson. 
As Sun King Brewery has continued expanding over the years, so has the need for Dur-A-Flex's Poly-Crete system. Over 15,000 square feet of Sun King's Production area has Poly-Crete flooring. "We have non-slip surfaces that are seamless, easy to clean and durable. The cove is especially helpful because there is no crease to collect dirt, grime or contaminants," concludes Robinson.
With Sun King's success, an addition to the facility is now underway, and Dur-A-Flex's Poly-Crete is the flooring of choice in the new space—based on the success of the flooring in the main facility.  
For more information:
Patrick Meade, 860-528-9838, contact_us@dur-a-flex.com