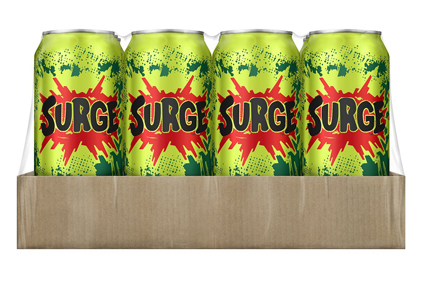 Thanks to social media, a passionate fan base and a love for '90s nostalgia, Surge, the citrus flavored beverage from the Coca-Cola Company, has returned after a 12-year hiatus.
Originating as a direct competitor of Mountain Dew, Surge debuted in 1996 but was discontinued some six years later after sales began to decline.
But a lingering thirst for the brand became the inspiration behind the Facebook page "The Surge Movement" that has garnered more than 145,000 likes.
Coca-Cola said it recognized there was an opportunity to explore the marketability of niche brands and re-launched Surge using the same formula and design.
The rerelease represents a new venture for Coca-Cola as it is the first brand to be marketed and distributed solely through digital media and e-commerce.
Thanks to a partnership with Amazon, Surge will be sold exclusively through the online retailer. While demand has caused the product to temporarily sell out, Coca-Cola intends to have a steady flow of Surge available for purchase at a cost of $14 for a 12 pack of 16 oz. cans.