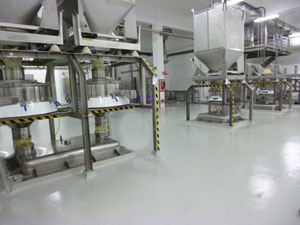 Compact gravity-fed circular vibratory sieves screen milk powder at a finer mesh size without sacrificing flow rates, allowing Nestlé's new facility in Chile to meet production demands safely and efficiently. Source: Russell Finex.
Changing attitudes worldwide toward healthier lifestyles have led to an increased demand for milk powder products. This increased demand led Nestlé to engage long-term supplier Russell Finex to provide purpose-built screening solutions for a new plant built to process 26,000 tons of milk powder per year.
Nestlé began selling products in Chile in 1934, and its new facility in Osorno is one of the most technologically advanced dairy processing plants in the world. It produces a variety of milk products with added nutritional value, targeted at the domestic and overseas markets including the US, Central America, the Middle East and Asia.
A Russell Finex representative helped Nestlé determine its compact sieve would best meet the factory's requirements. Three different milk product categories necessitated a variety of flow rates, so the installation plan called for 22-, 36- and 48-in. diameter compact sieves for each process line.
Typically, rotary sifters are used for powder screening, but this equipment presents several problems. For one, product quality can be compromised by the impeller forcing powder through the mesh. In addition, most rotary sifters are supplied with nylon mesh, which is prone to breakage. These issues led Nestlé to use gravity-fed circular vibratory sieves instead.
"The ongoing relationship is due not only to the high quality of Russell Finex's separation equipment, but also the accompanying documentation and certification that are provided," says Jaime Sanchez, maintenance manager at the Osorno plant.
Recent changes in industry practices have led to the need to screen milk powders more finely. Traditionally, 4mm aperture mesh (5 mesh) has been the most common size, but 2mm (10 mesh) is becoming more popular. Unlike conventional vibrating screeners, the high-performance Russell compact sieves can screen milk powder at this finer mesh size without compromising flow rates, preventing them from becoming bottlenecks in Nestlé's processes.
"We required a sieving system that would enable us to check-screen the milk powder to meet the standard set by Nestlé, as well as Chile and the countries the milk powder is being exported to," explains Sanchez. "With the industry moving toward 2mm screening, it was important to choose sieves that would meet this criterion without slowing down the production process." The new sieves have enabled the factory to meet its target throughput rate of 26,000 tons per year.
The high-quality stainless steel Russell compact sieves are easy to clean between batches, thanks to a simple design that allows operators to strip down the machines and clean them without tools. Enclosed screening for total containment eliminates dust and fumes, helping Nestlé meet its strict "zero dust environment" policy and ensuring the operators' health and safety.
"The Russell compact sieves have helped us meet our required capacity and have provided a hygienic solution that meets the regulations for the milk powder industry," says Sanchez. 
For more information: sales@russellfinexinc.com, 704-588-9808, www.russellfinexinc.com.