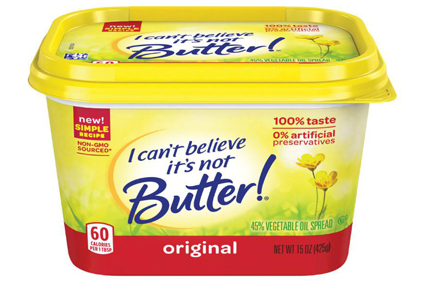 Beginning with its I Can't Believe It's Not Butter! brand, Unilever has dedicated itself to revamping its buttery spreads portfolio by scrapping its old recipes and swapping in new formulations that focus on using real, simple ingredients and no artificial preservatives.
According to Unilever, the effort is part of the multinational consumer goods company's commitment to sustainability that responds to changing consumer interests. The new spreads include no artificial preservatives and features ingredients like blends of plant-based oils, purified water and salt.
"This is a groundbreaking innovation for Unilever's US Foods division, driven by our mission to deliver great-tasting and sustainable food to America," said Mike Faherty, vice president of Unilever Foods North America. "The new I Can't Believe It's Not Butter! is the start of a complete category transformation that will help us grow the buttery spreads business. It is also consistent with the types of innovation you can continue to expect from our Unilever foods brands."
The new products will launch this month and will be followed by other spreads including Country Crock, Brummel & Brown and Imperial in 2015.