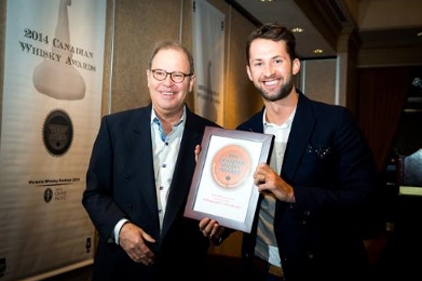 A jury of whisky experts selected Collingwood 21 Year Old Rye as the best Canadian whisky of 2014 at the fifth annual Canadian Whisky Awards held this week.
Chairman of the judges, Davin de Kergommeaux, described Collingwood Rye as "a Canadian whisky connoisseur's dream come true."
Only 50 barrels of the winning whisky were distilled at the Canadian Mist Distillery in Collingwood, Ontario. While Canadian stocks are nearly depleted, a number of bottles are still available in select US markets.
Other top winners at the ceremony included Lot No. 40, Canadian Club Chairman's Select 100 percent Rye, Forty Creek Double Barrel Reserve, Masterson's 10-Year-Old Rye, and Crown Royal Monarch. Forty Creek distillery's John Hall received a lifetime achievement award.
 "Interest in Canadian whisky continues to grow and Canada's whisky makers have responded with a wealth of new high-end whiskies," said de Kergommeaux.