---
Food Engineering presents its list of the world's Top 100 Food & Beverage Companies of 2018. Read on for details on the 2018 ranking or click here to see this year's Top 100 feature.
---
The packaged food industry continues to face down challenging conditions to record progress, and growth, where it matters most.
Of the 100 companies in our list of the biggest food and beverage businesses worldwide, just 28 charted higher this time around, based on annual turnover. A total of 51 companies fell by at least one place, and there were 17 "non-movers" that held their positions from last year's list.
But the figures belie the achievements of the world's biggest food and beverage manufacturers. The 100 companies on the list have managed to add more than $61 billion in sales value between them—an average of $689 million each—despite shrinking volumes, rising regulatory pressure, more demanding consumer expectations and economic uncertainties.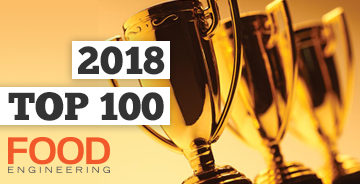 Article Index:

The biggest gainers
The biggest gainer in terms of revenue was Anheuser-Busch InBev, which can count itself unfortunate that, despite adding more than $10.92 billion to its annual sales in the past 12 months, it's still in third place on our list. The brewing giant benefited from the integration of SABMiller, which completed in October 2016. The merger created some more room between Anheuser-Busch and JBS and Tyson Foods, which are in fourth and fifth place respectively—both up one position from last year. But Anheuser-Busch InBev, the owner of brands including Budweiser and Michelob Ultra, is still $7 billion behind second-place PepsiCo, which was up $726 million from last year, to $63.53 billion.
Nestlé, in first place, saw its full-year revenues fall by $817 million despite immense pressure from activist investors Third Point, led by Dan Loeb, which revealed in June 2017 that it had taken a stake worth $3.5 billion in the Swiss-based food giant. That $817 million is the fifth-largest drop in our list this year, underlining how the industry has mostly managed to retain growth in a difficult market.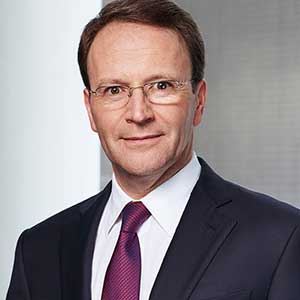 "During the past months, we have completed initial portfolio adjustments with very favorable results. We will continue this active portfolio management approach in a disciplined manner and fully in line with our strategy."
–Mark Schneider, Nestlé
Speaking about the company's financial transformation, Nestlé CEO Mark Schneider says: "Our cost reduction initiatives delivered margin improvement ahead of 2017 expectations, in spite of considerable commodity price increases.
"During the past months, we have completed initial portfolio adjustments with very favorable results. We will continue this active portfolio management approach in a disciplined manner and fully in line with our strategy. Regarding our core portfolio, accelerating our growth through product innovation and renovation is high on the agenda."
The company may have been able to avoid a loss in overall revenue were it not for "weak sales development towards the end of the year" and continuingly difficult trading conditions in Brazil, as well as the US, where it announced plans to offload its confectionery business to Ferrero for $2.8 billion in January 2018.
Molson Coors, like Anheuser-Busch, grew on the integration of new business units. It completed the acquisition of the remaining stake in its MillerCoors joint venture with SABMiller, which SABMiller had to dispose of in order to meet antitrust requirements related to its merger with AB.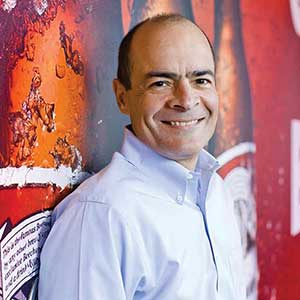 "The combination with SAB has exceeded our expectations. We have incorporated the best of both companies by bringing together world-class talent, integrating best practices and deepening our understanding of consumers and occasions across all markets."
– Carlos Brito (pictured) and Olivier Goudet, Anheuser-Busch InBev
As a result, its revenue has more than doubled—from $4.89 billion last year to $11 billion this year.
Molson Coors President and Chief Executive Officer Mark Hunter says: "2017 marked the first full year of the bigger, stronger Molson Coors, and our full-year results demonstrated balance and progress against both our bottom-line and top-line goals."
Hunter says that integration, synergies and cost savings were all delivered "on or ahead of plan," and the company also strengthened its balance sheet by more than $900 million through debt pay-down and pension contributions as part of its deleverage strategy.
Danone rose three places in this year's list, helped in part by a strong third quarter in which it recorded sales of €6.45 billion—up 16.6 percent year on year—on the back of the recovery in infant formula and water products in China.
Singapore-based agribusiness Olam International rounds off the top five in terms of biggest gainers, jumping five positions and adding almost $3.3 billion in sales over the last 12 months.

The sharpest fallers
Coca-Cola lost the most in terms of revenue, dropping two places and seeing sales fall from $41.86 billion last year to $35.41 billion this year. The decrease in sales reflects a challenging trading environment for the Atlanta-based company, which is often the focus of the sugar debate and has faced new pressures in the past 12 months. In the US, consumption of carbonated soft drinks is falling, and countries like the UK, South Africa and Ireland have all recently implemented taxes on sugar-sweetened beverages.
Performance for the Coca-Cola bottlers featured in the list was more positive: Coca-Cola European Partners rose three places to 30th in the list, gaining close to $2.5 billion in sales in the process; Coca-Cola HBC retained the same spot as last year, with sales growing by 7.7 percent to reach $7.37 billion; and there was a respectable entry for Coca-Cola Bottlers Japan, the company's new bottler formed by the combination of Coca-Cola East and Coca-Cola West, appearing in 46th place with revenue of $8.5 billion.
PepsiCo held onto its second-place position in the list with sales increasing slightly to $63.53 billion—though trademark Pepsi is playing a less significant role in that product mix. Indeed, PepsiCo CEO Indra Nooyi has previously discussed how Pepsi will play a smaller role in the business over time. Nooyi has announced that she will be stepping down from the CEO role in October, which will leave just two women as chief executives in the top 100.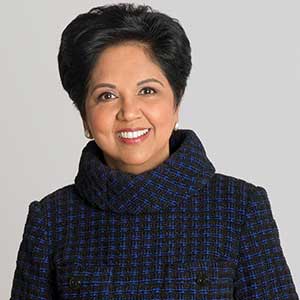 "We are pleased with our performance for the fourth quarter and full year 2017. We met or exceeded most of the financial goals we set out at the beginning of the year. We delivered these results in the midst of a dynamic retail environment and rapidly shifting consumer landscape."
– Indra Nooyi, PepsiCo
"In 2017, we continued expanding our selection of low- and zero-calorie beverages, with launches such as Aqua Minerale Water + Juice and new flavors of KeVita Master Brew Kombucha, while introducing Tropicana Probiotics," Nooyi says. "And our distinctive black can Pepsi—known as Pepsi Zero Sugar or Pepsi Max—continued to gain ground around the world.
"We also introduced Quaker 3 Minutos, an affordable, wholegrain, oat-based product that delivers daily nutrition to consumers across Latin America, and Off the Eaten Path, a series of vegetable- and legume-based products like veggie crisps, hummus crisps and sweet potato crisps available in the US and UK. And we built on the success of the Simply brand with new products like Simply Doritos white cheddar.
"These are just a few of the more nutritious products we launched in 2017, building on more than a decade of progress transforming our portfolio. In fact, while in 2006, our 'Fun for You' portfolio was about 70 percent larger than our 'Good for You' and 'Better for You' portfolios combined, by the end of 2017, they were nearly equal in size."
The second-biggest faller was Conagra Brands, which lost more than $3.8 billion from its full-year sales and fell 20 places—more than any other company on the list. This was accounted for in large part by the spin-off of Lamb Weston, which was completed during the middle of the previous financial year. Lamb Weston, which manufactures frozen potato products, turned over $3.17 billion in its first full year as a separate entity.
The sale of Spicetec and JM Swank also played a contributing role in Conagra's reduced revenues, cutting turnover within the company's Commercial Foods unit from $4.4 billion in 2015/16 to just $71 million in 2016/17.
Conagra will likely move up in next year's rankings, assuming it manages to integrate Pinnacle Foods—the $3-billion-a-year frozen food business that Conagra announced it would acquire in June this year. Chicago-based Conagra will pay $10.9 billion for Pinnacle, creating a combined business with around $11 billion in annual revenues.
With the potential that Conagra will be able to replace the revenue lost through the divestiture of Lamb Weston, CEO Sean Connolly is upbeat. "The aggressive actions we have taken to upgrade the quality of our revenue base, while focusing and modernizing our portfolio, have enabled us to improve our margins and jump-start innovation. Guided by our portfolio management principles outlined at our investor day, we are producing solid results. We are confident in our ability to continue to build on this momentum and drive long-term shareholder value.
"The acquisition of Pinnacle Foods is an exciting next step. After three years of transformative work to create a pure-play, branded food company, we are well-positioned to accelerate the next wave of change."

Consolidation and incubation
One of the major trends this year has been consolidation, as multinational food and beverage companies join forces to tackle the pressures facing the industry. The largest acquisition of the past year—at $18.7 billion—was the merger between Keurig and Dr Pepper Snapple, completed this past July, to create a new business called Keurig Dr Pepper.
For Dr Pepper Snapple, which fell two places in this year's rankings, the deal will propel it up higher in next year's Top 100 list. Based on the most recent set of results for the two companies, Keurig Dr Pepper will have annual sales of around $11 billion, which would have pushed it almost 30 places higher, to 35th, in this year's list. The company also expects to realize $600 million in synergies through the merger, which is the food and beverage sector's largest since German chemical giant Bayer agreed to acquire US seeds company Monsanto in September 2016.
The second-largest acquisition this year was Conagra's aforementioned move for Pinnacle Foods, and there was also IFF's $7.1 billion takeover of Israel's Frutarom Industries. Elsewhere, Nestlé paid $7.15 billion to acquire the retail rights for Starbucks' packaged teas, coffees and RTD products, while in logistics, Republic National Distributing Company and Breakthru Beverage announced plans to merge, forming a $12 billion distribution group.
Aside from big-money acquisitions, almost as much emphasis has been placed on nurturing young brands and start-ups. Larger packaged food companies are having to think more outwardly in order to prosper in a market that is beginning to favor more nutritious and more agile brands.
"The emergence of niche brands capturing growth in many markets" is one of the challenges identified by PepsiCo's Nooyi, and hers is one of a small handful of larger companies to develop in-house accelerator or incubator programs designed to nurture the next generation of food industry talent.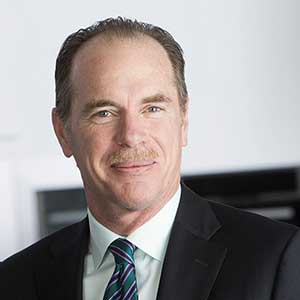 "Having been a Director and observing the company over an extended period of time, I know where Campbell has been and where it's headed, and am excited to lead the company as we continue to work to increase value for all our stakeholders. I am eager to begin working with our talented team as we strive to accelerate our growth strategy, improve our execution and deliver shareholder value."
– Keith McLoughlin, Campbell
PepsiCo's Nutrition Greenhouse incubator scheme returned for a second installment, having, in its first year, showcased concepts as diverse as insect snacks, seaweed protein and Nordic birch water. In March, Kraft Heinz launched a new incubator program called Springboard, followed by new incubators from Campbell Soup and Anheuser-Busch, while some of the industry's pacesetters brought back their accelerator schemes for a second or even third generation of brands.
Grupo Bimbo started the second edition of its incubator program, called the Eleva Food Technology Accelerator, while Chobani has such confidence in its health food incubator that it launched an adjacent scheme, designed to appeal to food-tech start-ups, in May.
Jackie Miller, incubator director at Chobani, told FoodBev Media that the concept strikes at the heart of its business, with founder Hamdi Ulukaya having built his yogurt empire up from virtually nothing. "One of the key points of differentiation that sets the Chobani Incubator apart is its emphasis on mentorship throughout the four-month program," Miller says.
"Hamdi is extremely passionate about this program and plays a key role in the process. He selects all final participants, makes personalized phone calls to welcome mentees to the incubator and spends time getting to know each company during the program."
Miller also says that offering a 'no strings' experience is key to creating a successful incubator program. It is tempting to see accelerators as a way for big businesses to surround themselves with some of their most dangerous, and most unlikely, competition. Start-ups can adapt to change much more quickly than larger businesses, and the pace at which they can get new products to market is enviable to the likes of PepsiCo, the second-largest food business in the world.
But they work best when there is a philanthropic mission behind them, Miller explains.
"We wanted to extend our mission beyond our own products by helping socially responsible food and beverage entrepreneurs make their products more widely available," she says. "We hope other companies out there do the same and use incubators as a force to change the way business is done."

A series of shock departures
If one thing has characterized the past year in the food and beverage industry more than any other, it is the rate of change in the boardrooms of some of the biggest companies. In addition to Nooyi's announcement that she would be stepping down as CEO, high-profile changes came at Mondelēz and Campbell Soup in August 2017 and May 2018 respectively.
First, it was announced that Irene Rosenfeld would step down as CEO of Mondelēz after 11 years in charge—initially as CEO of Kraft Foods, before Mondelēz was spun off in 2012. She had been under pressure for some time, with investors regularly voicing their disappointment at the lack of meaningful M&A activity, and rumors regarding her departure circulated several months before the announcement was made.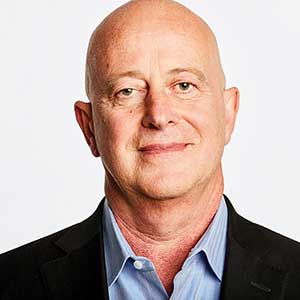 "I'm very excited about the opportunities ahead to create value at Mondelēz International. We have strong foundational pillars in place, and we enter the year with improving momentum in our business. Our 2018 plan reflects an emphasis on execution, ongoing improvements in top-line growth and continuing actions to expand margins."
– Dirk van de Put, Mondelēz International
By the time the company launched snack brand Véa in July 2017—two months before Rosenfeld's exit was confirmed—$1 billion had been wiped from the value of the company's biscuits division in just four years. The news that Rosenfeld would retire was released at the same time as Mondelēz's second-quarter results for 2017, in which revenue declined by 5 percent to $5.99 billion, driven in part by a cyber-attack that caused widespread disruption to the company's shipping and invoicing.
Rosenfeld was replaced at Mondelēz by Dirk van de Put, who had led McCain Foods to considerable sales growth during his six years at the frozen food company.
The second major change of the past year has been the departure of Denise Morrison as CEO of Campbell Soup. Morrison had held the post since August 2011, after more than eight years at Campbell's and more than 30 years in the food business. More recently, she had overseen several high-profile acquisitions—namely a $4.87 billion deal for snack maker Snyder's-Lance and a $700 million play for organic soup producer Pacific Foods, both completed less than six months before Morrison's retirement was made public.
According to Campbell's, Morrison chose to retire with immediate effect—but "disappointing" second-quarter results and lower-than-expected gross margin performance in the third quarter may have hastened her departure. Keith McLoughlin, who has served on Campbell's board, has been placed in charge temporarily while the company identifies a long-term replacement.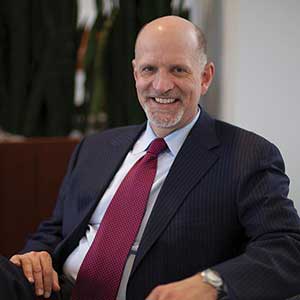 "We made significant progress toward competing more effectively this year, with strong innovation, marketing, and in-store execution driving positive organic sales growth in each of our last three quarters."
– Jeffrey Harmening, General Mills
Elsewhere, Jeffrey Harmening took over as CEO of General Mills in June 2017, following the announcement that Ken Powell would retire. Harmening has since guided the company to three successive quarters of year-on-year revenue growth, following 10 quarters in a row in which net sales had declined. The signs are promising for both General Mills and him, but the Minneapolis-based company continues to face shrinking volumes and a move by consumers away from packaged, processed foods.
There also were changes of management at Brazilian meat companies JBS and BRF, which have been dogged by a corruption scandal that has severely restricted their export opportunities and threatened to damage the reputation of Brazilian agriculture. JBS appointed 84-year-old Jose Batista Sobrinho as its CEO last September, while BRF opted for Pedro Parente—the former boss of oil company Petrobras—to fill the role of president.