---
We've released the results of our 2019 State of Food Manufacturing Survey. Click here to read the report!
---
The food manufacturing industry faces any number of challenges, both great and small, but according to Food Engineering readers, the future is bright.
Almost two-thirds of respondents to our annual State of Food Manufacturing Survey expect throughput at their plants to grow this year compared to last year, and a little more than a third expect it to stay the same. That leaves just 3 percent of respondents who say they expect throughput to go down. Among those who expect throughput to increase, more than half expect it to increase by more than 10 percent.
The numbers are similar for what respondents expect for their companies as a whole. About 61 percent of respondents expect overall growth, while 37 percent expect throughput to remain the same. Of those who say they expect growth for their companies, 54 percent expect growth to be more than 10 percent.
The most common reason for the expectation of growth is increased sales, with both those who say they expect higher throughput at their location (41 percent) and those who expect higher throughput for their company (38 percent) listing it as the top reason. But in addition to that, demand, new products, efficiency and location expansion all were listed as reasons for growth.
This report will take a look at what our respondents say about the top manufacturing trends in the country, as well as changes in plant and company operations, budgeting, productivity, food safety and regulations.


Food Manufacturing Trends
Stop us if you're heard this one before: Automation is expected to be the area where manufacturing operations will be most affected over the next five years. More than half (55 percent) of respondents cited automation, with efficiency/maintenance/ new equipment coming in a distant second, at 15 percent. Here's a look at the top 10 trends from this year's survey results.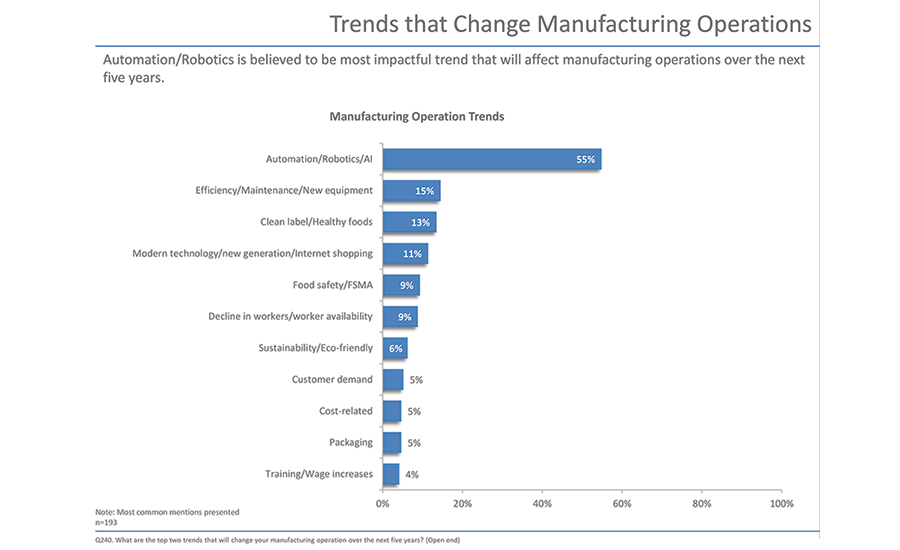 Click image to enlarge
The Top 10 Trends in the Food Manufacturing Industry
1. Automation: The industry continues to see huge interest in and adaptation of automation, as automated processes and procedures offer processors greater efficiency and throughput capabilities. Changing consumer demands, rising labor costs and regulations are all areas where processors are successfully adapting automated solutions, and while the idea of a completely automated plant is still a ways off, the production line of today has far more automated components than it did even a few years ago.
2. Efficiency/maintenance/new equipment: Efficiency is becoming ever more important as processors try to do more with less, keep up with consumer demands and comply with regulations without slowing down their production. Maintenance concerns are shaping how processors manage equipment and components, with tools such as automated reporting, sensors and fault detection offering new ways of keeping equipment running at peak efficiency. And, of course, new equipment costs and features are always top of mind for processors that need to replace existing equipment or build new production lines.
3. Clean label/healthy foods: As consumers become ever more conscious of what's in the food they eat, they are pushing for more options such as organic, gluten- and GMO-free food, foods without ingredients such as high fructose corn syrup and products they know are allergen free. Clean label initiatives across the industry are aiming to serve ingredient-savvy customers with products that meet their goals without sacrificing taste, shelf life and quality.
4. Modern technology/new generation/ internet shopping: E-commerce is driving change across the industry, with processors having to adapt to customers who do most of their shopping online. This is most commonly seen in the packaging area, as processors embrace packaging products and technology—such as plastic bottles instead of glass—that can be sold on store shelves or shipped across the country.
5. Food safety/FSMA: As FSMA comes fully online, it continues to send ripples throughout the industry. While many processors are already in compliance with or even ahead of FSMA regulations, the overhaul to the industry's safety rules and regulations has pushed processors to leap forward in how they ensure that food is safe and secure from ingredients all the way to the finished product.
6. Decline in workers/worker availability: Talk to a hiring manager in the food manufacturing industry about the challenges they face and you'll probably hear them say that finding good, reliable workers with the needed skillsets or the willingness to learn them is a constant challenge. With a healthy economy limiting the number of workers available and cost pressures putting constraints on wages and benefits, the industry is searching for a solution to find the workforce it needs to continue to meet expectations. Immigration restrictions and crackdowns are also playing a role in these concerns.
7. Sustainability/eco-friendly: Sustainability is an admirable goal for any industry, but it presents unique challenges for food manufacturers. While cutting down on the use of resources such as electricity and water helps both the environment and the bottom line, there's a baseline amount of resources that processors have to use. Saving water is great, but not if it means failing to comply with safety regulations. Consumers are also asking for more sustainable, locally grown or small environmental footprint ingredients, which is leading processors to re-evaluate everything from the supply chain to plant operations.
8. Consumer demand: Although this is a relatively small percentage of responses by itself, it touches just about every other category on the list. Consumer demands are constantly changing and evolving, and the pace of change driven by social media and other information-sharing tools among consumers can be hard for processors to keep up with. Specialty and artisanal processors are filling some of the gaps, but for larger companies, keeping up with consumer demands is requiring them to run a sprint when they're used to a marathon.
9. Cost-related: Much like consumer demands, this is a category that touches all the others. Cost pressures from consumers looking to save money on their grocery bill puts pressure on at one end, while rising labor and ingredient costs squeeze from the other end.
10. Packaging: Processors devote a lot of time, money and resources to packaging, and it's another area where consumer demands are driving changes. In addition to e-commerce friendly packaging, consumers are looking for more and better information on the package, less waste and single-serve or convenient packages for on-the-go meals. All of these demands are leading processors to explore new packaging options in an effort to balance meeting demands with the cost of developing new packaging solutions.


Budgets Looking Good, But Not Great
For the most part, budgets for packaging, processing and production equipment are looking good, according to our respondents. More than a third (36 percent) say the budget for equipment is going up, while a little more than half (53 percent) say it's staying the same. About 11 percent say their equipment budget is decreasing.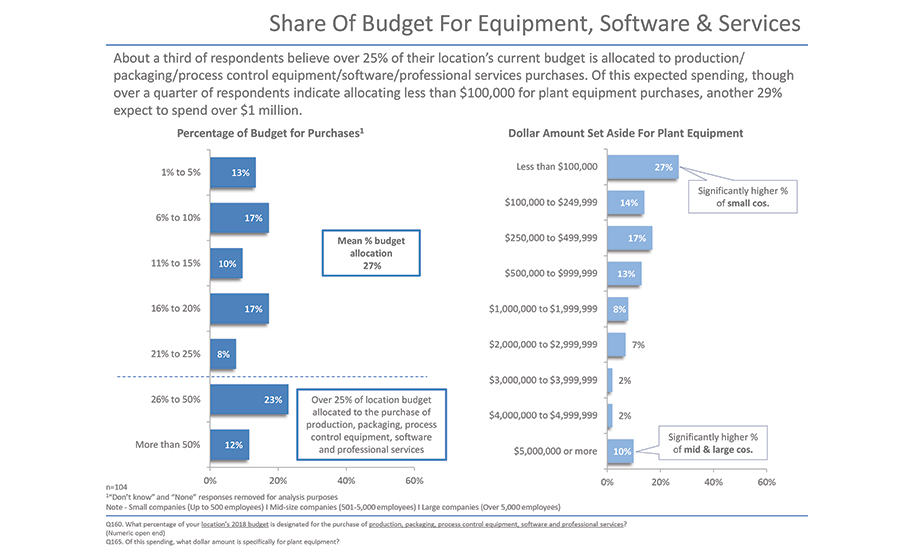 Click image to enlarge
When it comes to budgets for equipment, about a quarter (27 percent) of respondents say that they have less than $100,000 to spend on equipment, but this number is significantly higher among respondents from small companies, which is to be expected. More than half (55 percent) of companies say they will spend less than $500,000 on equipment. But 10 percent of respondents say their budgets for equipment are more than $5 million.
When we look at budgets for automation and control hardware and software, 28 percent of respondents say their budgets are going up. But of those respondents, 32 percent say they're looking at increases of more than 25 percent in the amounts they have to spend on automation and control hardware and software, showing a clear trend, especially among mid-size companies, in spending more—in a lot of cases substantially more—on automation and controls.
As a share of overall budgets, the budget for equipment, software and services is relatively small in a lot of cases. About 65 percent of respondents say that equipment, soft ware and services make up 25 percent or less of the overall budget, with 23 percent of respondents saying it's 26-50 percent and 12 percent saying it's more than 50 percent.


Top 5 Process Control Purchases
Respondents expect a number of purchases related to process controls hardware and software. Here's a look at the top five categories, with respondents allowed to pick more than one answer.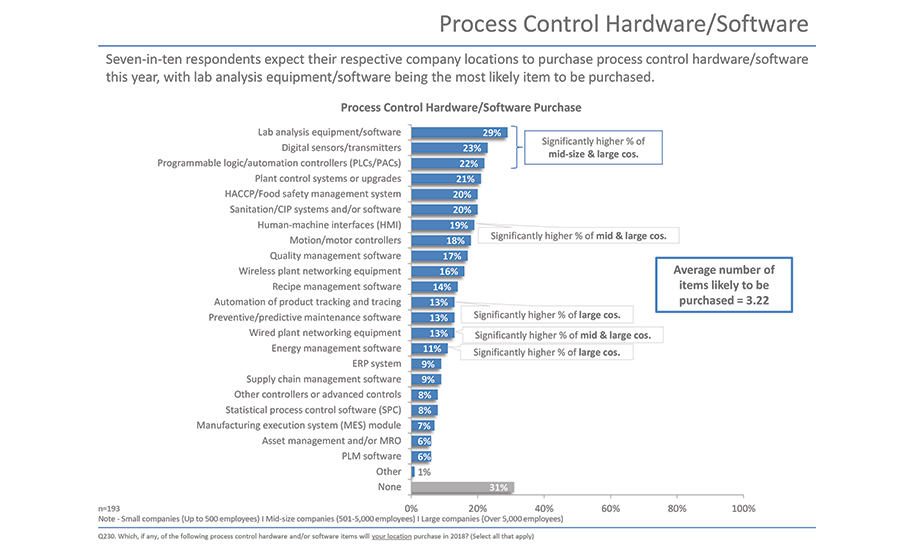 Click image to enlarge
1. Lab analysis equipment/software: Almost 30 percent of respondents say they expect their location to purchase lab analysis equipment/software, with midsize (501-5,000 employees) and large (more than 5,000 employees) companies saying so at a higher rate than smaller companies. The likely drivers of this decision are FSMA compliance, other food safety strategies and quality control efforts.
2. Digital sensors/transmitters: As companies look to automate processes and procedures, digital sensors and transmitters help in multiple ways. Not only can they provide information from previously unmeasurable areas of the production line, but they can be used to provide information from legacy equipment that can't speak directly to modern automation or control software.
3. Programmable logic/automation controllers (PLCs/PACs): Again we see the effects of automation, as processors look for ways to automate processes, procedures and even equipment that was previously restricted to manual control.
4. Plant control systems or upgrades: Almost the same percentage of respondents chose plant control systems or upgrades as PLCs/PACs or digital sensors/transmitters. All three of those categories are integral parts of an automation strategy, so it's not surprising that all three would be common choices.
5. HACCP/Food safety management system: As HACCP becomes a more common part of food safety efforts (an effect of FSMA), processors are looking for ways to automate compliance and have better data reporting for compliance tracking, food safety management and recall management. Automated systems can help in all of those regards, as the data reporting and automation capabilities help streamline both food safety efforts and response time if something goes wrong.