While it was once common for operators to apprentice under experienced bakers to learn the business, today's bakery operators are usually less trained and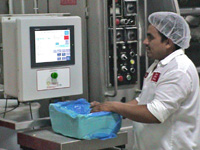 Seeking to reduce waste, troubleshoot more effectively and provide full lot traceability, food manufacturers are turning to advanced batch and lot-tracking systems like PRIMS (Product Recipe Ingredient Management System) from Focus Works. Source: Focus Works.
more prone to making mistakes on the plant floor, especially if batch instructions and records are kept on paper. In addition, the paper trail makes it particularly difficult for management to troubleshoot production problems. Paper records are frequently inaccurate, not just because operators must interrupt their tasks to create them, but because of human nature.
"The standard mixer report that most bakers use asks mix operators to record their mistakes, but most people will not do that with 100-percent honesty," says Julio Llovet, director of operations at Modern Italian Bakery, an Oakdale, NY-based manufacturer of artisan breads and specialty items, which makes fresh regional product and a frozen line that is distributed nationally.
"According to our previous mixer reports done by hand, every batch was to spec every day, yet material waste and inefficiency was a problem," says Llovet. "We ended up 'chasing our tail' trying to figure out what the problems were."
Seeking to reduce waste, troubleshoot more effectively and provide full lot traceability, Llovet turned to an advanced batch and lot-tracking system called PRIMS (Product Recipe Ingredient Management System) from Focus Works, a Patchogue, NY-based supplier of "out-of-the-box" batch control and food safety solutions.
PRIMS is a PC-based automation solution that interfaces to PLC-based operator control stations on the plant floor. It is based on the premise that the only way to prevent operators from making mistakes is to confirm and verify everything they pre-scale and add into the mixers, thereby removing their ability to deviate from the set recipe. The software monitors required ingredients, proportions, mixing time, speed and dough temperature.
"As soon as we installed PRIMS, we realized that 90 percent of the information logged in our mixer reports was inaccurate," says Llovet. "When we realized where the deviation points were, it took less than a week to put in the corrective actions. Within six months, we reduced our out-of-spec doughs from about 15 percent to 2 percent, and reduced our overall waste from about 9.0 percent to 3.5 percent. It took about three months to achieve ROI. It was like I was managing in the dark and somebody turned on the lights because of all the controls we now have."
For instance, while one operator had listed dough temperature in the standard 77°F-78°F range, when temperature probes were installed and used by operators as prompted, the system found some dough temperatures actually in the low 80s°F.
Because the operator was told to put in ice but did not, Llovet changed the ingredient formula to force the operator to weigh the required ice as a necessary step. Now everything that goes into the mixer is weighed and verified, including scrap. "Within about two minutes, I was able to modify the recipe to require the operator to add ice to a specified tolerance," says Llovet.
"Previously, some of our operators would forget to hand-add an ingredient," says Llovet. "We were probably losing about 14 doughs a week with no yeast. Now because each ingredient and all raw materials are recorded, we have no 'mystery doughs,' and all missing ingredients can be tracked."
Because Modern Italian Bakery runs a 24/7 operation, Llovet appreciates being able to use his laptop at home to pull reports to see how his operators are doing in real time. As he has given operators daily and weekly feedback via key performance indicators, such as final dough temperature and productivity over time, he says they have steadily improved their work performance.
"Now my mix operators refuse to mix with anything else," says Llovet. "The software walks them through all the steps, one by one. They don't have to slow production to write entries in a dough sheet. Even though it's policing them, they love it because it makes their job easier."
Lot tracking for raw material traceability is also addressed by the PRIMS software. "With full lot traceability, we're doing business with major players that see the capability as a best practice," says Llovet. "With it, I could do a mock recall in 30 minutes with no need to track down paperwork or dig through archives to find the right mixing sheets and production schedule. All our production records are now kept electronically."
For more information: sales@focus-works.com; 631-758-3629; or visit www.focus-works.com.