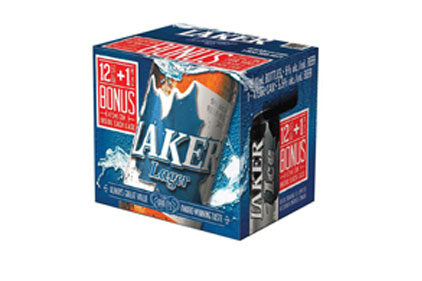 Inserting a 13th container in 12 packs posed an engineering challenge Brick Brewing met. Source: Brick Brewing Co. Ltd.
Cajuns call it lagniappe: a little something extra, added for good measure. Donut makers do it with a baker's dozen. At Brick Brewing, it's a bonus can of beer wedged into 12 packs and cases of Laker Lager.
"The price of a case of beer in Ontario is among the highest in the world," explains George Croft, president and CEO at Waterloo, Canada-based Brick Brewing. Taxes push the minimum retail price for a case to $29.35. The bonus beer is Brick's way of providing "a great reward, not a great expense" for Ontario's working class.
An extra container has been included in cases for a while, but inserting a 16-oz. (473ml) can into a 12 pack of 11.5-oz (341ml) bottles required on-the-fly engineering. Only four weeks lapsed from concept to rollout, and automation was added in fits and starts. "People were manually turning cartons to a long-side leading orientation to the sealer," says Luigi Fanton, Brick's director-maintenance & engineering. Manual insertion of the cans was done until top-loading machinery was installed. Once the 600 bottles-per-minute line was automated, four jobs had been eliminated.
The bonus tallboy meant a switch to a slightly larger carton and a divider insert to stabilize the bottles. Including a $1.20 deposit, the 12 pack retails for $14.95. The unit price is comparable to value pricing of Brick's cases, which are promoted as "buck-a-beer" for the working man.
"Early results have been fabulous," Croft reports. While overall beer purchases in the province are down 2.8 percent, Laker Lager's sales were up 58.2 percent in week three of the promotion. Even stronger growth occurred with brand extensions: Laker Light had 97.4 percent growth, while Laker Ice enjoyed a 320 percent increase, compared to the same week in 2011.