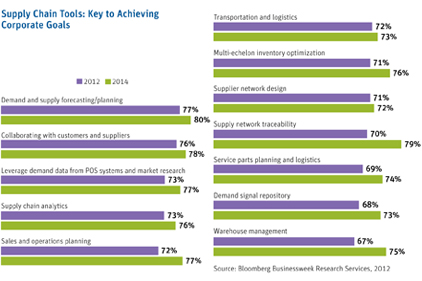 As supply chains become more complex, globalization accelerates and customers become more demanding, supply chain innovation will be more essential to meeting corporate goals. Investment in tools for creating and operating a real-time supply chain will be at the center of this innovation, according to a recent guest commentary by Andres Botero of SAP for Logistics Viewpoints.
Botero cites a Bloomberg BusinessWeek Research Services survey that reveals although many companies already use demand and supply forecasting tools, new tools are needed to support real-time supply chains. A real-time supply chain allows planners to make decisions based on the most up-to-date information possible.
Adjusting supply plans in real time makes supply chain management a strategic initiative, and the tools required for real-time management are on track for adoption in the next two years. Botero shares five steps to real-time supply chain management to help companies manage their operations as efficiently as possible.
The first—and perhaps most critical—step is to enable insightful supply chain management. The wealth of supply chain performance data now available, Botero says, can enable real-time analysis, gain access into fragmented business procedures and achieve deeper visibility through KPIs.
The next step is to transition from traditional sales and operations planning to sales and operations business planning. Sales and operations business planning should not be disconnected from tactical planning, and business operations must be balanced against their financial impact. Combining operations and financial data allows businesses to collaboratively create scenarios and simulate the effects of decisions in real time to increase supply chain profitability, according to Botero.
The biggest supply chain challenge is the lack of timely, quality information on what customers want and when. Botero says companies must embrace the concept of a demand-driven supply chain, where companies use POS, social media and market research data to closely monitor changes in customer demand. Utilizing that information in planning stages accelerates supply chain processes while reducing planning cycle times and working inventory.  A demand-driven supply chain also helps avoid stock outs, optimize new product launches and increase promotion effectiveness.
Given the complexity of global networks, efficient logistics and order filling operations are essential. Attaining efficient logistics and order filling operations requires real-time visibility of shipping processes and track and trace, automated warehouses and advanced transportation planning.
Lastly, companies must continue to streamline the service supply chain. Real-time visibility allows for an integrated supply chain that responds quickly to customers' needs and plans more efficiently. Advanced analytics also have an important role to play in real-time visibility as advancements in in-memory computing and mobile solutions facilitate optimization at all stages of the supply chain.
Read Botero's article here.