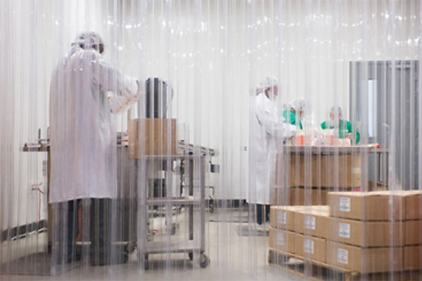 Equipment sanitation is a critical component to advancing food safety measures for any food or beverage manufacturer. Now, new provisions of the Food Safety Modernization Act (FSMA) are expected to place even more stringent regulations on sanitation practices further down the line for  manufacturers of dry foods, including baked and snack products.
Tom Egan, vice president, industry services for PMMI, the owner and producer of PACK EXPO Las Vegas 2013 (September 23-25; Las Vegas Convention Center), sheds some light on what manufacturers can do to ensure their sanitation procedures are in compliance with new FSMA requirements.
FE : What are some steps manufacturers can take to reduce contamination via human error such as missing a cleaning surface?
Egan: There are two important measures that manufacturers can take. One is to make sure standard operating procedures are followed rigorously. It's critical that these practices become integrated into workers' activities as everyday functions so they become habit.
Another important measure for manufacturers to implement is updating and conducting training exercises as needed to ensure workers understand the new requirements. Operations may differ from one machine to the next—especially if a manufacturer is adopting new equipment or making changes to existing technologies. Manufacturers need to know exactly how to identify and eliminate potential sources of contamination, and how to abide by any new reporting structures.
FE: In terms of equipment sanitation, a clean-in-place system today is pretty well automated, but how do you know when you've sufficiently cleaned processing/packaging equipment that can't be automatically cleaned? Where do you apply swabs to test for bacteria?
Egan: Clean-in-place systems sanitize the internal workings of a machine. However, manufacturers also must worry about contaminants in other areas, including any surfaces where water or product can collect. These areas can become media for growing bacteria and are likely to be checked in the instance of any regulatory inspections. Typically, swabs can be taken on food contact surfaces and tested for contaminants or bacteria to ensure compliance with regulations. Other equipment surfaces can be tested, to a lesser degree, to ensure the process and packaging environment is free of bacteria that could contaminate the product.
FE: How can manufacturers prevent air in the raw side of a facility from contaminating air on the cooked side?
Egan: This is an essential component of facility design where all factors must be considered including material flow, production traffic and airflow. To prevent such issues, food and beverage manufacturers should work closely with their equipment suppliers when making changes to the design of a facility—whether it's a simple line reconfiguration or large-scale expansion.
FE: What are some examples of modular systems, and how can they help producers?
Egan: Modular systems provide greater flexibility for companies looking to handle more than one type of product on the same line while minimizing downtime between different runs and preventing any cross-contamination between ingredients—especially when common allergens such as peanuts or gluten are involved.
The beauty of modular systems is they allow operators to ready one product variation while another is still on the line, swapping one production setup for the other quickly and moving offline several extra steps that otherwise would be required to sanitize the equipment between runs. Modular units have been applied to a wide variety of processing and packaging equipment. Applications may include mixers or baggers with components that can be easily removed and changed out for a similar module that contains or handles different products, packaging formats, serving sizes, etc.
FE: Where is the line between ensuring efficiency and passing inspection? How can manufacturers make sure they do both?
Egan: There is no substitute for ensuring the safety and integrity of consumer goods and no room to cut corners. Every company has to use risk assessment practices. The first two provisions released as part of FSMA require food and beverage manufacturers that sell their offerings in the United States to have a clear plan of action to prevent the contamination of their product both up and downstream.
To enhance the efficiency of this process, these manufacturers should work closely with suppliers to ensure any new equipment is designed to minimize surface areas where moisture and/or food particles can collect and facilitate bacterial growth. Sanitation procedures should be well articulated, and operators must be properly trained and equipped to maintain the highest possible levels of cleanliness and know what to do in the event contamination does occur.
When manufacturers consider inspection parameters, they know the consequences of failing. Facing a recall of a compromised food or beverage product once it hits store shelves is costly for the manufacturer and retailer; moreover, negative consumer perceptions stand to endanger the success of that brand as well as those that offer similar products. Any manufacturers in need of guidance on FSMA and other regulations affecting their sector can visit the Food Safety Summit Resource Center at PACK EXPO Las Vegas to have their concerns addressed by subject matter experts.
For more information, visit PMMI.org and Packexpo.com.