Scheduled for September 23-25 at the Las Vegas Convention Center, PACK EXPO 2013 will host more than 1,600 exhibitors and cover over 700,000 sq. ft. of  floor space. More than 26,000 attendees from 127 countries are expected to attend the event, produced by PMMI.
Special exhibit pavilions, designed to showcase technological applications and solutions from specific industries, include a new Center for Trends & Technology Pavilion where attendees can learn how technological innovations can improve production. Additional industry pavilions include The Brand Zone, The Processing Zone, The Confectionery Pavilion, The Reusable Packaging Pavilion, The Pharmaceutical Pavilion and the Food Safety Summit Resource Center.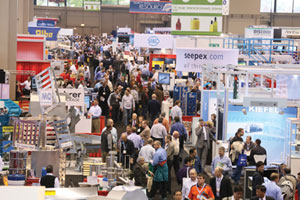 More than 26,000 attendees from 127 nations can find new developments and advances from over 1,600 exhibitors at PACK EXPO 2013 in Las Vegas.
PACK EXPO 2013 will present approximately 65 educational sessions on topics such as foreign body and contamination detection, improving food and machinery safety, Global Food Safety Initiative standards review and update, sustainability and project management. Industry associations from a variety of disciplines within processing and packaging, including The Alliance for Innovation & Operational Excellence, the National Confectioners Association and the Reusable Packaging Association, worked as conference partners on presentations and pavilions.
The Association of Independent Corrugated Converters will hold its annual packaging design competition, meeting and designer's lab alongside PACK EXPO. Featured in The Brand Zone will be a showcase of packaging innovations highlighting award-winning designs, along with materials, containers and technologies that breathe life into imaginative designs.
The expo will also include:
Market-specific lounges featuring Ask-the-Expert forums and networking opportunities on the show floor including The Baking-Snack Break, The Beverage Cooler, The Candy Bar and The Rx Lounge
A showcase of packaging innovations featuring more than 100 award-winning packages from 100 industry associations
The Packaging  Emporium hosted by Clemson University demonstrating the impact of packaging design on consumer behavior and showcasing biometric technology that captures this data
A mobile app to keep show information at hand on your iPhone, iPad or Android device
Innovation stages for presentations and networking opportunities
A special PACK Gives Back program benefiting K9s for Warriors, a charitable organization dedicated to providing service dogs to soldiers and military veterans suffering from posttraumatic stress. 
PACK EXPO AT A GLANCE
Where:  Las Vegas Convention Center, Las Vegas, NV
When: Monday, September 23 through Wednesday, September 25
Exhibit Hours: 9:00 a.m. to 4:00 p.m.
Conference Sessions: 9:00 a.m. to 4:00 p.m. Monday, September 26; Tuesday, September 27; and Wednesday, September 25Contact:  703-243-8555 or www.packexpo.com