For anyone who visited the International Baking Industry Exposition (IBIE 2013) in Las Vegas last month, there were opportunities to learn how to improve the baking craft at every level. IBIE 2013 provided courses that ranged from working with ingredients and understanding food safety to working supply chains. Compliance with food safety regulations, energy savings and innovation were the key drivers in both equipment and software design.
An AIB panel discussion on the Food Safety Modernization Act (FSMA) provided the latest information on how the law impacts the baking business. A Global Food Safety Initiative seminar showed how GFSI and its schema could play a role in future audits and improve both food quality and food safety.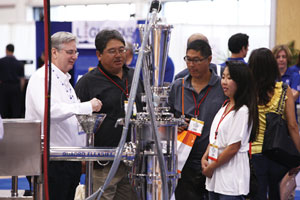 Innovations in food safety, energy efficiency, throughput and performance were evident at IBIE 2013 held in Las Vegas last month. Source: IBIE.
In 2010, IBIE began its Becoming Environmentally Sustainable Together (B.E.S.T.) program, which honors industry suppliers that have made a positive impact on the environment. The B.E.S.T. award recognizes businesses for their products or services that foster energy conservation, a reduction in water usage, healthy living and/or a reduction of the overall impact on the environment.
This year, 17 companies received the B.E.S.T. award. They include: Air Management Technologies; American Pan Company; AMF Bakery Systems; Auto-Bake Pty; Briess Malt & Ingredients; ChemxWorks; Daabon Organic USA; ENERVEX; Hayon Manufacturing; Meyer Laboratory; Newave Packaging; Oberlin Filter Co.; Picard Ovens; Robbie Flexibles; Shaffer Mixers & Processing Equipment; SPX Flow Technology; and TMB Baking. Arla Foods International; Color Maker, Inc.; Lawrence Foods; Palsgaard Inc.; and Unitherm Food Systems received honorable mentions.
Judges for the B.E.S.T. awards included Jeffrey Teasdale, engineering manager of fresh and frozen bakery, Pepperidge Farm; Jack Lewis III, president, Lewis Bakeries; David Hipenbecker, director of network strategy & project engineering, The Kroger Company; Jeff Dearduff, vice president, ARYZTA North America; Albert Koch, director of engineering, Mondelez International; and Theresa Cogswill, president, BakerCogs.
This year's Innovation Showcase featured 47 suppliers of equipment, packaging, ingredients and services in a "gallery of ingenuity." According to IBIE Chairman Mike Beaty, "Innovation is a key ingredient of the Baking Expo. This state-of-the-art area makes sure truly innovative products and ideas are properly highlighted and easily accessible to everyone."
Many of the innovations highlighted the themes food safety, energy efficiency, throughput and performance. For example, Focus Works, a supplier of production recipe inventory control software, added SQF-Sentinel, a paperless food safety data collection system and reporting solution that facilitates the certification and compliance process for HACCP, ISO, BRC, SQF and other food safety standards. (For more on HACCP software, see pages 69-81 in this issue.) On the equipment side, Radio Frequency Company announced its Macrowave bulk pasteurization system, which operates in the 40 MHz frequency range and is able to pasteurize nut meats, spices, pasta, tobacco, fishmeal and other bagged or bulk food ingredients, according to Timothy Clark, president and CEO.
Dough-handling systems were available for small to large applications and for solving special problems. AMF Bakery Systems showed its DoFlex dividing technology, which implements a low-shear dividing process to maintain structure and consistency for several dough types. Gemini Bakery Equipment Company displayed a range of equipment covering a variety of pan and hearth-baked products. Rademaker exhibited its double-chunker sheeting system, while Rheon USA displayed its punch rounder for a variety of dough types. Zeppelin Systems showed its CODOS continuous mixing/kneading system that provides consistent dough quality with easy recipe changes and customized controls. Another continuous mixing system, the HDX from Reading Bakery Systems, works with products requiring high dough development at lower temperatures.
Air Management Technologies showed its sustainable waste heat management system, which allows bakeries to manage both thermal and electric resources through the capture of waste heat from ovens and oxidizers. The waste heat can be used for proofers, process water heating, tray washing and more.
 While not included in the Innovation Showcase, many other devices and tools were indeed clever. For example, think a spray nozzle only sprays cleaning fluids? It can do much more—like spray chocolate onto a cookie. Spraying Systems demonstrated its heated AccuCoat, a specially designed nozzle with a pulsating pressure that delivers problem products such as chocolate, sugar slurries, oil, butter and other coatings that are solid or viscous at room temperature.