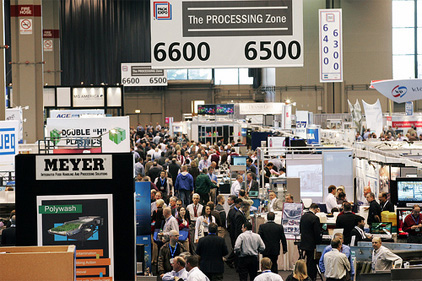 PMMI, The Association for Packaging and Processing Technologies, has long provided scholarship opportunities for students to attend PACK EXPO. Now, students at the show don't just attend--they participate in engaging events like the Solutions Challenge and Great Packaging Race at PACK EXPO Las Vegas.
"Engagement is key to understanding," says Maria Ferrante, vice president, Education & Workforce Development, PMMI. "By being active participants in PACK EXPO events, students have a way to better appreciate how they can use their degrees. Whether you're an end user or a supplier, the packaging and processing supply chain holds a wide range of opportunity. We want to show the students aspects they may not have considered."
This year, PACK EXPO also highlighted five local high schools that sent their robotics teams to compete FIRST Robotics Competition. FIRST is a national organization that strives to connect students to "real-world engineering," and show them first-hand where science, technology, engineering and math can lead them. The students demonstrated the robots they built for the 2013 competition at the Future Innovators display in the Education & Workforce Development Pavilion.
"Bringing students to PACK EXPO — and giving them something to accomplish while they're there — is one of the best ways I know to build our workforce. Students at all levels have told us that their trips to PACK EXPO are eye-openers. They come away excited. They know more about what they can do with their degrees, they have new ideas about what they want to do and they want to learn more. It's a like giant classroom," Ferrante says.