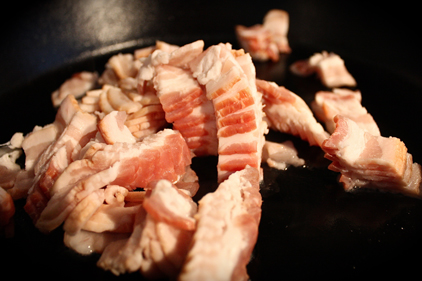 The lust for bacon is growing among foodies and everyday consumers alike, though pork will have to share some of the spotlight.
Last year, US foodservice consumers devoured 1.1 billion servings of bacon, an increase of 6 percent from the previous year, according to a report by the NPD Group.
But while pork holds the majority of servings and dollar volume, the global information company says bacon varieties like beef, chicken, duck and turkey are getting some attention.
Servings of pork bacon grew by 2.3 percent in the past year despite an increase in price, according to NPD's SupplyTrack. Other bacon varieties which hold a small share of the servings such as turkey and chicken saw single-digit unit growth. However, beef bacon units increased by double-digits and duck by triple-digits. 
"The growth in bacon consumption at foodservice outlets is reflected in the dollar and unit growth in bacon shipments from the broad line foodservice distributors," says Annie Roberts, vice president, NPD SupplyTrack."Among the key drivers of bacon unit growth are more consumers visiting restaurants for breakfast, and new and innovative bacon menu offerings, including new types of bacon."