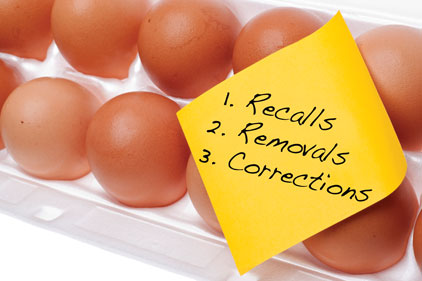 Already this year, federal regulatory bodies and manufacturers have recalled a number of products, with nearly 2 million pounds of ground beef recalled nationwide in May because of a potential E. coli bacteria contamination.
With such high quantities of products being recalled, what precautions can manufacturers take to avoid or prepare for a recall? And what can be done to better communicate with the public?
Food Engineering spoke with Mike Rozembajgier, vice president of recalls at Stericycle, to discuss the key findings and trends the company identified as part of the Stericycle Recall Index for the first quarter of 2014.
The index tracks and studies recall data to help manufacturers and industry stakeholders navigate the regulatory environment and identify trends. The company analyzes data every quarter from Consumer Product Safety Commission, FDA and USDA.
FE: What trends are developing related to the food industry, and are there any valuable statistics?
Rozembajgier: According to the USDA, in the first quarter of 2014, there were 18 recalls, which is relatively consistent with the last three months of 2013, which saw 19 recalls. However, the amount of pounds recalled exploded by nearly 1364 percent. Specifically, there were three recalls of one million or more pounds behind this increase, including one Class 1 recall of more than 8.5 million pounds. To note, this is 10 million more pounds than the highest quarter in the past two years.
In another trend, there are a number of recalls initiated due to "mislabeling." This catchall phrase encompasses products that contain undeclared allergens as well as extraneous materials that shouldn't be in the product. Undeclared allergens, such as dairy, shellfish and wheat were the top causes of USDA recalls, and were responsible for 45 percent of all reported events in the first quarter of 2014. In fact, undeclared allergens have been one of the leading causes for the past two years. With an increased awareness and public concern about food allergens, it's not a problem we see tapering off in the near future. Allergens have been the single largest cause of recalls, comprising 43 percent of recalls from Q2 2013 to Q1 2014.
FE: What can manufacturers do about undeclared allergens and mislabeling?
Rozembajgier: Manufacturers must be vigilant about accurately listing their ingredients. This is of particular importance as the globalization of the supply chain continues, since this expansion generally also entails an increase in the risk for unintentional ingredients. With that said, food manufacturers need to be more aware of their supply chains to ensure they know their sources, identify and isolate potential problems by lot number and identify any affected supply.
With the passage of the Food Allergen and Labeling Consumer Protection Act (FALCPA) by Congress, companies have been required to declare the eight major allergens for 10 years now. Those top eight include milk, egg, fish, crustacean shellfish, tree nuts, wheat, peanuts and soybeans.
In addition, FSMA now gives FDA the authority to order recalls of contaminated food. The law requires that companies implement a food defense program, including practices to prevent hazards that may be intentionally introduced during the manufacturing or packaging processes.
Despite this oversight, mislabeling continues to be a significant issue for manufacturers and consumers alike. It's not that companies are becoming more careless, but more that the issue is becoming more complex. The process of food manufacturing is more efficient than ever, but the flip side is that one small misstep with a labeling machine or one faulty link in an international supply chain can lead to a massive recall.
FE: How does a food recall affect the average consumer?
Rozembajgier: Consumers are being inundated by recalls of consumer products, pharmaceuticals, medical devices, autos and food. In fact, there can be as many as 10 recalls a day. This is causing what we call "recall fatigue." As more and more recalls pile up, the chance increases that consumers could ignore or miss a recall that could endanger their health. This is a challenge regulators, retailers and manufacturers wrestle with on a daily basis.
FE: Is there any way to improve communication with consumers to alert of them of a food recall?
Rozembajgier: Customer loyalty cards are a great way to track which customers have purchased a product and contact them directly. They can provide the basis for an easily accessible database of customer information that is updated in real time with purchase history and contact information.
FE: How can food manufacturers prepare most effectively for a potential recall?
Rozembajgier: Preparation is absolutely key. It is critical that beyond implementing the highest food safety standards, food manufacturers create a recall plan in advance to streamline the recall response and record process.
In constructing a product recall plan, food manufacturers must always take into account the volume of products that need to be recalled. They must also consider whether all products or just a specific item needs to be recalled, as well as the way in which the company will identify the affected customers.
If a recall does occur, it's in a company's best interest to ensure an effective and timely recall process. While some companies attempt to handle recalls in-house, this can lead to slow and incomplete recalls. Through partnering with a recall expert, organizations gain valuable expertise as well as a team to staff call centers, provide regulatory reporting and carry out the logistics needed to get the recalled item off the shelves quickly.