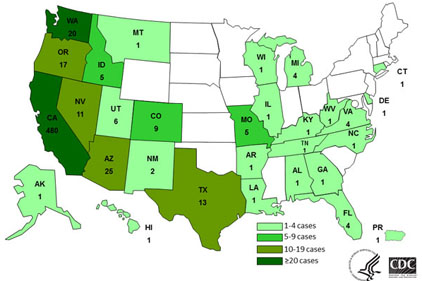 California poultry producer Foster Farms has issued a product recall after an investigation by USDA and CDC linked the company's chicken to an ongoing outbreak of an antibiotic-resistant strain of salmonella.
As of July 2, CDC reported 621 individuals were reportedly infected with multiple outbreak strains of Salmonella Heidelberg in 29 states since March of 2013. After studying the outbreak, CDC determined the consumption of Foster Farms brand chicken is likely the source of this outbreak. The resulting outbreak has hospitalized 36 percent of affected persons with 77 percent of the illnesses reported in California.
According to CDC, USDA identified one of the outbreak strains in a Foster Farms chicken sample collected from the home of an infected person in California. There was no link between the company and the bacteria until then.
USDA took action asking the company to recall the chicken, which the company voluntarily issued on July 3.
The Class 1 recall includes fresh chicken products sold under Foster Farms or private label brand names produced in March with "use or freeze by" dates ranging from March 16 to March 31. The products were shipped to retail stores in Alaska, Arizona, California, Hawaii, Idaho, Kansas, Nevada, Oklahoma, Oregon, Utah and Washington.
Though the products are likely no longer available for purchase, authorities warn that they may still be in consumers' freezers.