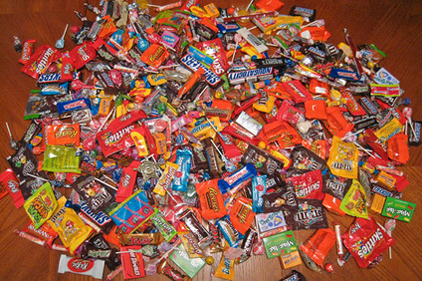 With Halloween creeping right around the corner, consumers are stocking up on chocolate and candy for trick-or-treaters.
But what is America's favorite candy? According to a recent survey by The Hershey Company, Reese's Peanut Butter Cups ranked as the overall favorite for US consumers.
While Reese's are a Hershey product, the company isn't the only one to brag about its chocolaty peanut butter treats. The candy holds the top spot on recent seasonal candy lists from Business Insider, Thrillist, Buzzfeed and eOnline among others.
According to Hershey, in 2013 people handed out the most candy to trick-or-treaters. The most popular Hershey's candies purchased were Reese's at 47, Kit Kat Bars and Hershey's Milk Chocolate Bars.
Halloween is big business. According to the National Confectioners Association, Americans will spend about $2.5 billion on candy for this year's holiday.
The association says the 60-plus generation will hand out more candy than the general population and shoppers in the Midwest top other regions when it comes to passing out treats.
Despite this, consumers have moderation in mind with 40 percent of parents reportedly limiting their child's Halloween candy consumption, the association said.