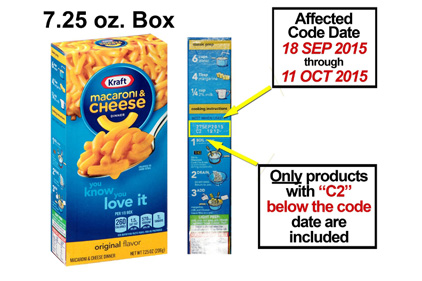 Kraft Foods Group has issued a massive recall of approximately 242,000 cases of original flavor Kraft Macaroni & Cheese Dinner because of the possibility that some boxes may contain small pieces of metal.
According to NBC News, a company spokesperson confirmed about 6.5 million packages of the popular dinner were packed into the cases. Kraft says it has been contacted by eight customers about the impacted products, but no injuries have been reported.
"We deeply regret this situation and apologize to any consumers we have disappointed," the company said in a statement.
Recalled boxes are limited to the 7.25-oz. size with "Best When Used By" dates of September 18, 2015 through October 11, 2015 with "C2" directly below the date. The products were sold individually and in packs of three, four and five which have a range of different dates and manufacturing codes. A full list of recalled products can be found online.
 The boxes were shipped to U.S. customers nationwide and were also distributed to Puerto Rico and some Caribbean and South American Countries, but not Canada.