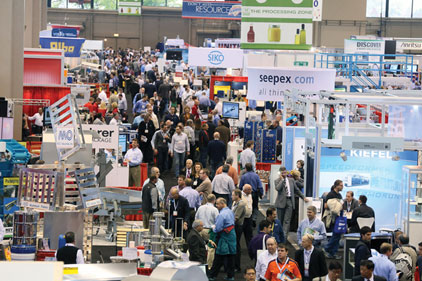 The Food Safety Summit Resource Center (Booth S-7632), organized by the Food Safety Summit, will return to PACK EXPO Las Vegas (Sept. 28–30, 2015; Las Vegas Convention Center), according to show owner and producer PMMI, The Association for Packaging and Processing Technologies, and the Food Safety Summit.
A staple of the show since 2010, the center will bring together experts in food production and food safety for a series of educational opportunities. Subject matter experts will provide information focused on best practices and recent advances on the Global Food Safety Initiative (GFSI) and Food Safety Modernization Act (FSMA) as well as HACCP, food fraud, federal and state regulations, environmental monitoring, allergens and compliance issues.
"Since FSMA was announced in 2011, manufacturers have, out of necessity, been hyper-focused on food safety issues," says Charles Yuska, PMMI president and CEO. "The Food Safety Summit Resource Center gives PACK EXPO attendees a chance to get the specific information they need to stay abreast of this important issue."
FSMA rules, which are still in the process of being finalized, attack food safety concerns proactively, taking a stance that favors prevention over recovery.
 "Food safety violations and product recalls will cost your company money and devalue your brand. That's unacceptable at best. The Food Safety Summit Resource Center is a place where PACK EXPO attendees address their specific questions with leading experts — so they can return to the office better educated and ready to put plans into motion to avoid violations and recalls," says Scott Wolters, event director, Food Safety Summit.