Most people have likely never heard of The Hausbeck Pickle Co. in Saginaw, MI, but there's a good chance they've had one of its pickles, banana peppers or jalapeños.
The company makes products for fast food restaurants, such as of Subway, Burger King, Sonic, Domino's Pizza and Papa John's, and also recently contracted with Yum Brands, which owns Pizza Hut, Taco Bell and KFC. So, if you've had a burger in the last few decades, it's likely you've had a Hausbeck pickle.
Founded in 1923 by Charles E. Hausbeck, today, the company does between $40 and $50 million a year in sales and has 120 employees. And it's still family run. Charles's grandson Tim Hausbeck is now president, while his other grandson Joe Hausbeck is vice president.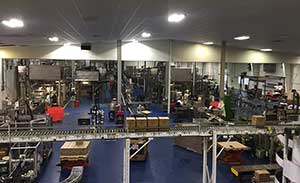 All those pickles and peppers are made in the company's 80,000-sq.-ft. plant—which features 44,000 sq. ft. of manufacturing space and 40,000 sq. ft. of warehouse space. And the factory produces an average of 400,000 pounds of pickles or peppers a day, which comes to about 10 billion pickle slices, 25 million banana peppers and 13 million jalapeños annually.
When the company was originally founded, it wasn't focused on fast food, but rather the retail market, with jars of Hausbeck pickles lining the shelves of grocery stores.
Charles, who started the company at just 35 years old, died young at 44. So, his wife Rose took over the business, while also raising her six children. Her sons served in World War II and the Korean War, and then returned to help their mother, brothers and sisters in the pickle factory.
"My grandmother took it over, and literally, it was just a small, little, tiny operation for a lot of years," says Tim Hausbeck. "The company was always quite small. They had all lived through the depression. They were all very much debt averse."
The factory produces an average of 400,000 pounds of pickles or peppers a day, which comes to about 10 billion pickle slices, 25 million banana peppers and 13 million jalapeños annually.
Eventually, in the mid-1970s, Tim's grandmother turned ownership over to her children, splitting the company up between four sons. Tim's dad John was named president.
"Through the years, myself, my cousins, my brothers and sisters, we all worked at the company, but it was a very small company, and we were maybe barely making it into the middle class." Tim recalls. "So, everybody went off to different careers, except for my second-oldest brother [Joe], who is the second owner today. He received his degree in food science from Michigan State, came back and tried to make things on a larger scale, and started to improve things and make them more efficient."
That was back in the 1970s, when the science around fermentation was rapidly evolving, something Joe learned about while in college. One of the major issues with turning a cucumber into a pickle is something called bloaters. That's when fermentation causes the sugar to turn into lactic acid, and then, the carbon dioxide gasses try to escape, creating a big hole in the center. But Joe was able to incorporate a new process, called purging, into the fermentation process, which involves circulating air around the tanks, allowing the carbon dioxide gasses to escape.
"It greatly improved yield," Tim says. "Not that the bloater was necessarily a bad experience, but it's considered a defect, and you're losing material, because the center of that pickle used to be solid. Joe helped improve that big time and brought that technology here, and then, the company started growing."
Then, in 1980, came another pivotal moment for Hausbeck Pickles—a fast food contract. "We were a retail-based company forever," Tim says. "And that was fine through the 1960s and 1970s. But people all of a sudden stopped eating pickles out of the grocery stores. And the whole fast food chain [business] was really starting to grow in the 1970s and especially in the 1980s and 1990s."
In fact, Tim says it was growing 30 to 40 percent a year.
"My father was able to start selling Burger King stores in 1980 on a local level. That was probably the first big game changer for our company, because that market was growing so fast," Tim explains. "Pickles were growing at about 1 percent a year, and supermarkets were shrinking."
However, that could be changing again. Tim says the company is considering a move back into the retail market, as grocery store sales regain momentum.
Eventually, Hausbeck scored its second major fast food contract, this time with a sandwich maker. But not before first running into some hurdles.
"In 1996, Subway was the next big player to come to us, wanting us to process pickles for them and make banana peppers and jalapeño peppers. We didn't know anything about peppers. So, we had to pass on that business," Tim says. "During the next few years, we learned how to make peppers, and the opportunity came back around with Subway in 2001, and we started selling them."
Eventually, the business from Subway even outpaced Burger King, as consumer tastes shifted, increasing demand for jalapeños and banana peppers. These days, peppers represent half of the company's business.
But with that growth came other issues, and the next major hurdle for Hausbeck Pickles was food safety and, specifically, the Food Safety Modernization Act.
"The food industry, in my opinion, has been lagging behind when it comes to food safety programs," Tim says.
As with many food companies, Hausbeck relied on physical paper documents to track ingredients and the production process, but that made compliance with FSMA challenging, especially when it came to recall requirements.
"You have filing cabinets and filing cabinets of nothing but documentation," Tim says. "We didn't have advanced inventory control programs. So, if we wanted to do a recall, we could do a recall on a finished good, but if it had to be an ingredient, it would have taken probably a few days to get all the paperwork together."
That all changed March 1, 2016, when Hausbeck employed an ERP software system. Using the system from Plex, the company can do a recall more easily and faster. For finished goods, a process that used to take two hours can now be done instantaneously. And for ingredients, a process that used to take days can now be done in less than two hours, because everything is tracked within the software.
And the tracking starts at the farm. Obviously, all of Hausbeck's pickles start off as cucumbers, many of which are actually grown by contractors in Michigan—the country's largest cucumber producer. Once the cucumbers are harvested, they are put into fermentation tanks at an offsite tank yard, where they have to sit for at least three weeks.
"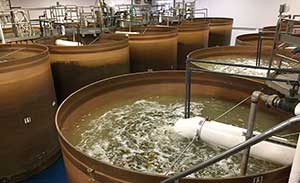 Between July 15 and September 15, they bring in approximately 50 million pounds of cucumbers to put into those tanks over [at the tank yard]," Tim explains. "They've got approximately 1,000 tanks, each tank holding approximately 50,000 pounds."
Once the pickles are ready to process, they are transported to the main factory in tubs, which weigh about 2,000 pounds each. Lined up outside, they are eventually brought into the factory and put into massive tanks, where they go through a desalting process. The tanks are kept at between 70°F and 75°F, so the pickles don't desalt too quickly.
"These pickles, if you try to eat them right now, would be too salty," Tim says, while pointing to the large tanks.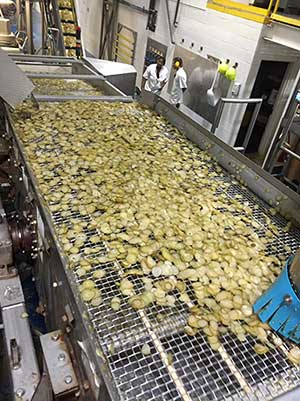 After the pickles are desalted, employees sort and inspect them for any foreign objects or blemishes as they go down the line. Then, the pickles go through the Urschel TranSlicer 2000, where they are cut into the perfect shape for hamburgers and sub sandwiches.
The next step is the combination weigh-scale, where the pickles are scaled and weighed, and mixed with brine before they are packaged into either a bag, a pouch or a gallon container with the Multivac R535. They are then boxed, put onto a conveyor and sent to the warehouse, where they are palletized.
The factory actually has five lines, including two main pickle and pepper lines, a relish line, a line for five-gallon packs and another for smaller pouches.
Depending on the time of year, the factory runs five days a week, or when the large harvest of local peppers comes in during August, it runs six days a week, with Sunday as overflow.
It's quite a leap from where the company started back in 1923, thanks in no small part to Tim and Joe's drive to move the company forward.
Tim admits he never planned to work for the family business though.
"This isn't where I wanted to work. It was hard work. I had a degree in finance. I wanted to be a stockbroker," he recalls. "But it ended up working out pretty good."
Millions of fast food customers seem to agree.