Naturipe's blockchain test case:
Faster traces could help keep contaminated food off plates
The ability to quickly find the source of recalled food is tied to consumers' perceptions of how safe the food supply is. Many food companies are exploring blockchain to speed traceback times, potentially identifying the source of recalled products in minutes instead of hours or days.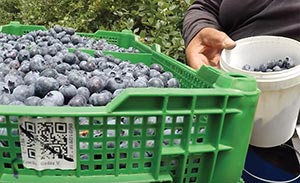 One of those companies, Naturipe Farms, is on a mission to explain why blockchain is a secure way to share product information and to persuade supply chain partners to join up to track blueberries from Michigan or avocados from Chile, all the way to distribution centers for stores such as Target and Walmart. And eventually, Naturipe's chain could connect with a retailer's chain for true farm-to-table traceability. Contaminated products could be destroyed faster and reach less people.
"You could get potentially harmful product off the shelf. I think that the No. 1 [benefit] for food safety is traceability and to know where it [product] is," says Donna Lynn Browne, director of food safety and social responsibility at Naturipe Farms.
The company became an early blockchain explorer by testing it in a proof of concept with SAP, its ERP system provider. "I'd rather be at the leading edge to be able to give some input as to how we want to see the end result," says Carol McMillan, director of information technology at Naturipe.
The project, finished last year, traced the components of a chicken Cesar salad with blueberries. "You could identify where the chicken came from, where the lettuce came from, where the blueberries came from—and all within seconds," McMillan says.
After the proof of concept, the company joined SAP's consortium of businesses that meet a couple times a month to discuss various blockchain uses, such as farm traceability, supply chain visibility and international trade improvement, an area the group recently began exploring.
With the test case, the company used QR codes to track berries from harvest until delivery to customers' distribution centers. "They're able to track every box, which farm that it was harvested on, the day it was harvested, the crew that harvested the product, and then that information flows into a database," McMillan says.
When pallets have berries from multiple farms or fields, the system still allows the company to determine a harvest day and the two or three fields the fruit came from.
A possibility for expanding blockchain's use for food safety would be inputting third-party audits for GFSI benchmark schemes into the shared database for the farms, pack houses and coolers.
Browne says with blockchain being so new, some distrust remains about how secure information is in a shared system. "In order for us to get the full functionality out of it, everybody's got to be willing to put their blocks on the chain."
One issue being examined is how to improve operability between SAP's blockchain offering and the solution from another large player in the field, the IBM Food Trust, so more people could add their information to the chain, McMillan says.
"It's moving from this one step back, one step forward traceability, which has been the norm for a long time now, to: If everybody puts their one step back, one step forward on the blockchain, then we have an infinite number of steps back, steps forward. So, you're able to get the full picture of it," she says.
---
Machines that help demonstrate safety:
Thermo Scientific X-ray detection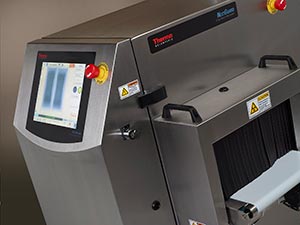 Thermo Scientific NextGuard X-ray detection systems include Quality Assurance Check software that automates the auditing process while in production. The software notifies operators when it is time to audit and prompts them to inspect a challenge product with foreign objects. It generates reports that document the audit results, including a pass or fail grade. The software can also run three times in one audit to facilitate a product test in three positions: leading edge, center and trailing edge. This feature is a requirement for some leading retailer codes of practice that were developed to ensure the highest standards for foreign object detection. QA Check eliminates the human error that can come with manually conducting and recording product tests.