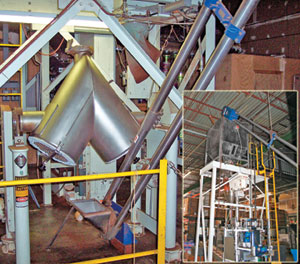 Excelso's AMC operates at a 45° angle at an output speed of 243 rpm, moving flavored coffee gently from blender (not shown) to a storage hopper at the top (inset photo).  Source: Spiroflow.
Processor finally replaces conveyor's wire rope which had performed flawlessly for 14 years—twice its expected lifetime.
Sometimes the less a processor sees a supplier, the happier the processor is, especially when a primary machine performs for 14 years without needing a single replacement part. For 14 years, Excelso Coffee & Tea Company, a custom provider of coffee and condiments to offices, vending machine outlets and private label sales, used an aero-mechanical conveyor (AMC) in its flavored coffee production operation without replacing any part.
Operating intermittently eight hours a day, five days a week, the AMC is used to convey flavored coffee from a V-ribbon blender to a storage hopper for packaging into coffee pouches or packages. Excelso Coffee & Tea roasts more than two million pounds of coffee a year that it packages into hundreds of different blends.
Normally, wire ropes for AMCs need to be replaced every five to seven years depending on the application. Part of the 14-year lifetime of Excelso's AMC can be attributed to the processor's proper maintenance, operation and care of its equipment.
Allan Shaw, Excelso vice president, recalled that his company initially selected the Spiroflow Model PC3 AMC after a thorough analysis of the various suppliers and types of conveying systems. "We mainly selected Spiroflow because of its years of experience and record for excellent after-sales support," notes Shaw. "We also needed a totally enclosed system that is dust free and wouldn't alter the integrity of the flavored coffee. The AMC seemed to be the perfect fit."
Unflavored coffee beans at Excelso are prepared in giant roasters, complete with automated computerized programs for each specific roast. Flavored coffee, in which the AMC plays a critical role, is prepared in a small V-ribbon blender where a syrup-type flavoring is added.
"We provide our customers with the highest-quality coffee at the best possible price while delivering excellent service," says Shaw. "To do this, we operate a facility where only the best equipment available is used, the most modern procedures are followed, and quality control is number one."
The AMC plays a critical role in conveying the coffee to a hopper for storage and eventual packaging. The AMC features a three-inch diameter tubular design and is an efficient method of conveying materials such as coffee because of its gentle, dust-free and clean-handling properties. Constructed of stainless steel to counter any flavor retention from the last batch, the machine can be washed with water or another cleaning solution through a valve at the top outlet and a drain on the bottom.
"We usually run 12 to 20 batches in a four- to five-hour run time," Shaw explains. "This means each batch takes from 15 to 20 minutes. The rest of the time, we clean out the blender and other equipment and purge it of any flavor. This is extremely important to maintain the precise flavor of the next batch."
The AMC consists of a continuous loop, wire-rope assembly with evenly spaced polyurethane discs that move at high speed within parallel steel tubes. At each end, the rope assembly runs from one tube to another around specifically designed sprockets. One of these sprockets drives the rope and discs while the other provides tension to the rope. Tube clamps are used to support the conveyor.
The action of the rope assembly traveling at high speed creates an air stream running at the same velocity. As the flavored coffee is fed into the air stream, it is conveyed to the storage hopper where the beans are centrifugally ejected.
"It's a tight, well-operated system that is virtually self cleaning," adds Shaw.  
For more information: