New Products
Technology Sourcebook
Depositor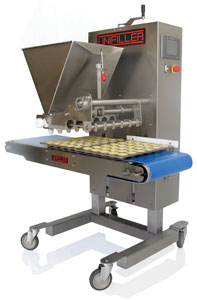 Designed for the bakery industry, the servo-driven Unifiller multi-station piston depositor can be used with stiff batters, batters with particulates, heavy cake mixes and liquids such as egg, custard and tres leches milk; it also handles light mousses or chunky fillings without breaking the pieces down or causing damage. Each cycle can consist of a maximum of 160 rows a minute, from 4 to 8 products on each row, for an overall depositing total of 1,280 per minute. Pistons portion control each nozzle volumetrically to eliminate uneven deposits. The multi-port depositor fits all types of pans and trays up to 18-in. wide. A variety of accessories and nozzles is available.
Unifiller; 888-733-8444; www.unifiller.com


I want to hear from you. Tell me how we can improve.