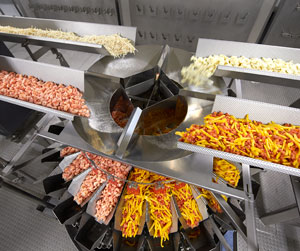 The heart of Tastee Choice's new line is the Ishida CCW-R-224 waterproof blending weigher. Source: Heat and Control.
The humble shrimp has been the mainstay of the Choice Canning Company for more than 50 years. Already a leading supplier of shrimp in North America, the processor expanded into the ready-to-cook meal market in 2006. It now produces 12 IQF skillet meals under the Tastee Choice brand and distributes them to retail grocery stores throughout the Eastern, Midwestern and Southwestern states and Canada.
Tastee Choice skillet/microwave entrées are available in Asian, Mediterranean and Italian blends of shrimp, chicken, vegetables, rice, noodles and pasta with sauces such as Oriental, Marinara and Roasted Garlic Alfredo.
The processor was faced with a dilemma most companies would envy. Sales have increased 80 percent in just the last year. "We consistently offer the consumer superior value, top-quality, fresh ingredients and a satisfying eating experience," says Junior Vice President of Operations Nithin Poulose. "Tastee Choice's growth has been fueled by expanding our meal kits to include chicken in addition to our shrimp meals."
To meet increasing demand and prepare for a new range of meal kits and IQF shrimp items, the processor opened a new product blending and packaging plant inside a cold storage facility in Quakertown, PA. Poulose wanted the new line to boost production capacity and overcome previous difficulties with individual component weights and product uniformity. So, he contacted Heat and Control for solutions and a new product conveying, weigh-blending and inspection line.
The heart of the new line is an Ishida CCW-R-224 waterproof blending weigher. Software divides the weigher's 24 heads into equal quadrants for mixed vegetables, sauces, pastas/rice and protein. The four components are precisely weighed and deposited into a form/fill/seal bag maker.
The Ishida  weigher is specifically designed for very accurate, four-part blending at speeds up to 60 weighs per minute with near-zero giveaway. All product contact parts are easily removed without tools, and its sanitary design is easy to clean. Heat and Control's packaging platform has built-in wash racks for the weigher's feeders and hoppers to simplify cleaning and prevent product equipment damage.
Product components are manually loaded at floor level into four FastBack 90E metering conveyors; 60° incline belt conveyors elevate product to the weigher platform and deposit it into the conveyors that feed each of the weigher's quadrants. FastBack's gentle horizontal motion protects product quality and assures consistent delivery to the weigher. The small conveyors are mounted closely together and provide unrestricted access to the weigher.
After bagging, the meal kits are given a final quality control check with an Ishida DACS-G checkweigher and CEIA MS-21 metal detector. CEIA's multi-spectrum technology eliminates product-effect false rejects common to non-homogeneous products like multi-component meal kits, yet provides the highest detection sensitivity to all potential metal contaminants. Total throughput of the system is rated at 5,000 pounds/hour.
"This system has considerably increased our productivity," says Poulose, adding it has also reduced excessive handling of the product. v
For more information: Brian Barr, 800-648-5313, info@heatandcontrol.com