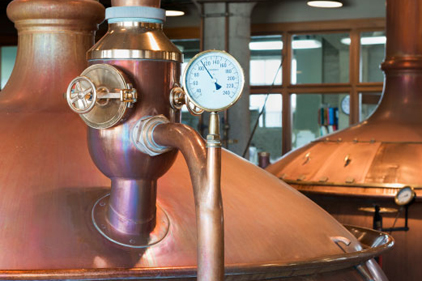 Kalamazoo Valley Community College (KVCC) and Western Michigan University (WMU) announced a partnership to launch the nation's first higher education programs in sustainable brewing beginning fall 2015.
Known as the "two-plus-two" program in sustainable craft brewing, the program offers students the opportunity to earn a certificate or associate degree at KVCC, then move on to a Bachelor of Science degree at WMU that combines industry art and science with the university's sustainable reputation.
"Water use and water recovery are among the top issues among craft brewers around the nation," said, Edwin Martini, associate dean in WMU's College of Arts and Sciences. "WMU brings the resources of a research university and a national reputation in water research and sustainability to the table and KVCC's food science and culinary arts expertise is providing the entry point and first credentials for students."
To aid in the development of the curriculum, the universities sought input from 10 of Michigan's top craft brewers acknowledging that these brewers are "key to our community and state's economic development."
 More information on the program can be found here.