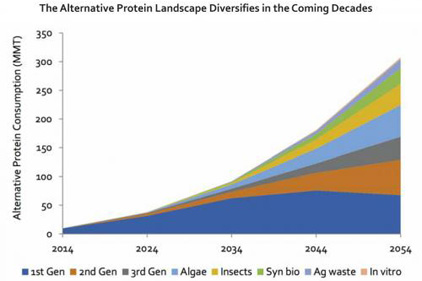 The growth in alternative protein sources could potentially claim up to a third of the protein market by 2054, according to emerging technology and intelligence analyst Lux Research.
Researchers say that with the global protein consumption reaching 943 million metric tons (MMT) by 2054, rising at a 1.7 percent compound annual growth rate from the current 473 MMT, alternative proteins will pick up the slack of a slowing meat and seafood growth.
"Novel protein sources beyond meat and fish are finding opportunities for growth within the once static protein industry," said Camilla Stice, Lux Research analyst and the lead author of the report titled, "WhooPea: Plant Sources Are Changing the Protein Landscape."
"Consumer preference, concerns over the planet's ability to produce sufficient meat, impact of livestock agriculture on the environment, and mounting scientific advances are driving the changing protein demand," she added.
Researchers studied factors that will affect supply and demand of protein and evaluated the influence of some emerging alternative protein sources.
Among the results, researchers found:
-Soy will dominate the alternative protein space over the next 10 years. "Consumption of soy, the first-generation alternative protein, has risen at a CAGR of 5.1 percent, versus 2.5 percent and 1.6 percent for meat and seafood, respectively, over the past decade. Soy consumption will continue to rise strongly over the next decade, reaching 31 MMT and capturing more than 80 percent of the alternative protein market by 2024. Second-generation plant proteins – proteins extracted from well-established plant sources like pea, rice, and canola – will only be a small slice of the overall alternative protein market by 2024 but will grow at a tremendous rate, poised for greater market adoption in the coming decades."
-Nascent alternative protein sources will gain market share in the coming decades. "Looking beyond the coming 10 years, the alternative protein market will diversify significantly as novel protein sources come to market. First- and second-generation plant proteins will maintain a majority market share, yet sources including third-generation plant proteins (utilization of novel plant sources naturally high in protein), insects, algae, and synthetic biology sources may make up over 50% of the alternative protein market by 2054."
 Approximately 430 million hectares of cropland worldwide will be used to grow the crops that will feed this growing protein demand by 2024. "This will constitute nearly 100 million additional hectares of protein crops growing worldwide. Rice and canola will be the fastest growing protein crops in terms of acreage planted. While human soy consumption will increase significantly, much of this will come from a shift away from feeding soy to livestock as opposed to a change in agricultural plantings."