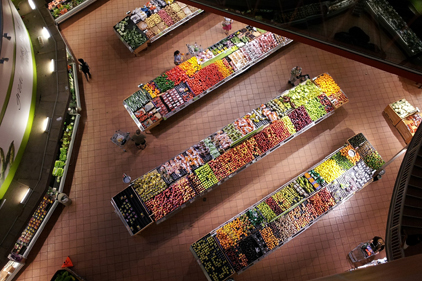 A new study of grocery purchasing behavior in the US revealed consumers prefer highly processed foods, which comprised more than 60 percent of the calories in the food they purchased.
The nationwide analysis conducted by the Federation of American Societies for Experimental Biology (FASEB) found Americans are eating more than the recommended limits of fat, sugar and salt. "Many Americans have strongly held opinions and beliefs about processed foods," says Jennifer Poti, research assistant professor at the University of North Carolina at Chapel Hill and leader of the research team conducting the study. "Some consider processed foods to be tasty, convenient and affordable choices, while others contend the combination of sugar, fat, salt and flavoring in these foods promotes overeating and contributes to obesity. But until now, we didn't really have the evidence needed to settle this debate. No prior studies have examined whether highly processed foods collectively have a worse nutritional profile than minimally processed foods, using nutrition information and ingredient lists specific for barcoded food and beverage products."
From 2000 to 2012, researchers asked 157,142 households to use UPC barcode scanners to record all the foods and beverages they purchased from grocery stores for at least one year. Items without barcodes were not included, though fresh items such as bagged lettuce or pints of berries were scanned. After years of gathering data, the researchers linked each item to its nutrition information, product description and ingredient list, allowing them to rank each product's degree of food processing.
Products were classified as highly processed if they contained multi-ingredient, industrially formulated mixtures. These items included products such as soda, cookies, chips, white bread, candy and prepared meals. Fresh or frozen fruits and vegetables, milk, eggs, dried beans and fresh meat were classified as unprocessed or minimally processed. Convenience was also examined, distinguishing between foods that are ready to eat, ready to heat or require cooking and/or preparation.
"Overall, we found that not only are highly processed foods a dominant, stable part of US purchasing patterns, but also that the highly processed foods households are purchasing are higher in fat, sugar and salt, on average, compared to the less-processed foods consumers buy," says Poti, who will present the findings at the American Society for Nutrition (ASN) annual meeting during Experimental Biology 2015. "The unshifting dominance of ultra-processed and ready-to-eat foods as major calorie contributors to US diets and their poor nutrient profile support the need to incentivize food manufacturers to improve the nutritional quality of their products."
The analysis revealed that from 2000 to 2012, the proportion of calories in highly processed food and beverage purchases made by US households remained stable at 61.0 to 62.5 percent. But the researchers noted a significant increase in the proportion of calories purchased in ready-to-heat foods, which reached 15.2 percent in 2012. More than 80 percent of the calories were in ready-to-eat or ready-to-heat form in 2012, and these tended to be higher in fat, sugar and salt than food purchases that required preparation. Researchers continue to track purchases to document any behavioral changes over time.
Despite these results, organic purchases are at an all-time high in the US, and the country's amount of organic producers has skyrocketed. The organic industry has continued to grow both domestically and globally, with 19,474 certified organic operations in the US and a total of 27,814 certified organic operations around the world in 2014, according to USDA.
According to data released by the Agricultural Marketing Service's (AMS) National Organic Program (NOP), the number of US certified organic operations increased by more than 5 percent over the last year. Since the count began in 2002, the number of domestic organic operations has increased by over 250 percent.
In general, organic foods were a big draw for US consumers in 2014 as sales of organic products jumped up 11 percent to $39 billion, a record for the industry, despite struggling with tight supplies of organic ingredients, according to the annual Organic Trade Association (OTA) survey. Organic non-food sales, at $3.2 billion, grew almost 14 percent for the biggest annual increase in six years.
Almost everyone across the country is getting in on the trend. According to OTA, a majority of Americans make organic products part of their regular supermarket and retail purchases—from 68 to almost 80 percent of households in the South to nearly 90 percent on the West Coast and in New England.
Since OTA first began tracking the organic industry in 1997, the sector has significantly expanded. According to OTA, sales of organic food in 1997 totaled $3.4 billion, and accounted for less than 1 percent of total food sales. To put this into perspective, organic food claimed almost 5 percent of the total food sales in the US in 2014.
 Fruits and vegetables remained the best-selling organic category, comprising more than 36 percent of all organic food sales. However, the organic dairy sector posted an almost 11 percent increase in sales in 2014 to $5.46 billion, the biggest percentage increase for that category in six years.