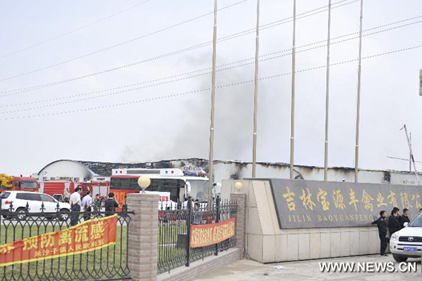 A fire occurred at the Jilin Baoyuanfeng Poultry Company, killing at least 119 workers. Source: Xinhua/Wang Haofei (China Daily).
At least 119 workers were killed early Monday morning in a poultry processing plant fire in Northeast China's Jilin province, according to a report from the China Daily. The fire started immediately after an explosion was heard about 6:06 a.m. at a slaughterhouse owned by the Jilin Baoyuanfeng Poultry Company near Dehui City, according to firefighters.
More than 300 workers were in the plant when the accident happened. About 100 workers managed to escape from the plant through a previously locked gate. The narrow exits and complicated interior of the pre-fab plant added to the difficulties encountered by rescue workers, according to the China Daily.
According to one worker who was burnt in escaping the burning building, soon after smoke filled the plant, the plant's lighting failed, making it difficult for people to locate an exit. The fire was put out within six hours. People living near the facility reported a pungent odor, and some suffered headaches.
Early conjectures pointed toward the possibility of an electrical fire and/or an ammonia explosion/fire. Currently, the cause of the fire is under investigation.