Peppermint, Spearmint and Berrymelon flavors of Stride iD gum debut in a 14-count, cellophane-wrapped, wallet-like pack with a magnetic reclosure unique to gum packaging. An inline coating process, developed by ASG (AGI-Shorewood Group), Stamford, CT, applies the 3.31- by 0.75-in. magnetic strip to the paperboard to create a secure reclosure mechanism. The stick gum from Mondelēz International (formerly Kraft) is expected to complete its global rollout by the end of 2013.
"The functionality of closures on confectionery packaging is very challenging," says Greg Chup, director of innovation at ASG. "Our new process features a coating we apply during printing. We have the only inline, fully automated converting printing process in the world that can do this."
The magnetic reclosure relies on magnetic extrusion technology from MagnetNotes Ltd., Toledo, OH. The commercial release of the Stride iD gum is the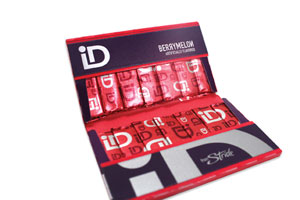 culmination of more than two years of research and development work and automates magnet application. Up until now, magnet application has been a manual, offline operation.
According to ASG Confectionery Account Executive Ken DeJaray, "Despite facing enormous technical challenges, we developed a functional, attractive, unique packaging solution that should help differentiate this new brand of gum." 
For more information:
Greg Chup, ASG
201-372-3871
greg.chup@asg-worldwide.com