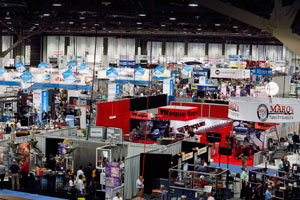 Come the first week of November 2014, more than 45,000 industry professionals will descend on McCormick Place in Chicago to take part in
PACK EXPO International
, an annual event showcasing the latest
innovations
and trends in the processing and packaging industries. Scheduled for November 2-5, this year's event, produced by PMMI, features more than 1,800 exhibiting companies.
PACK EXPO attendees will find technologies for virtually every market, including: baking and snacks; beverage, confectionery, dairy, fresh produce, fruit and vegetables; grain, mill and cereal; meat, poultry and seafood; and prepared foods.
PACK EXPO 2014 will present more than 68 educational sessions on topics such as the impact of FSMA, reducing risk, GFSI packaging standards, environmental monitoring, allergen control, ensuring food safety regulation compliance, aseptic technology and traceability, packaging plant food commissioning requirements and the top 10 ways software can help ensure food safety.
The 2014 edition of PACK gives BACK will benefit K9s for Warriors and feature an appearance by Jay Leno. The PACK gives Back event will be held on November 3 in the Grand Ballroom of the South Building beginning at 4:30 p.m. Tickets are $100 each.
Special event pavilions designed to help attendees zero in on specific solutions include The Brand Zone, the Confectionery Pavilion, The Processing Zone, the Reusable Packaging Pavilion and the Food Safety Summit Resource Center.
The Beverage Cooler Lounge, hosted by the International Society of Beverage Technologists (ISBT), will be a networking hub for beverage professionals to share ideas and network at the show. ISBT experts will be on hand to help attendees discover ways to overcome their operational challenges.
The Brand Zone is dedicated exclusively to material and container innovations—including materials and formats for high-impact retail-ready packaging. According to PMMI, the pavilion will showcase a broad range of substrates such as paperboard and rigid and flexible plastics; glass and metal packaging; and printing and ink solutions.
Returning to the show this year, the Food Safety Summit Resource Center will include a three-part educational session, The Top 10 Ways Software Can Help Assure Food Safety. The summit will offer information on the latest research and advanced technologies to improve cleaning, allergen control and traceability. Subject matter experts will be on hand to respond to attendee questions on FSMA and related topics.
At the Confectionery Pavilion, attendees can discover equipment and materials to help maximize line flexibility and protect product freshness.
Other highlights of the event include industry-specific lounges for guests to network and exchange ideas with their peers, as well as four innovation stages providing access to industry insights and free educational sessions.
PACK EXPO is co-located with Pharma EXPO 2014, a new trade show featuring more than 2,000 exhibitors displaying solutions for the pharmaceutical and biopharmaceutical lifecycle.
 
PACK EXPO 2014 AT A GLANCE
> Where: McCormick Place, Chicago, IL
> When: Sunday, November 2, 2014 through Wednesday, November 5, 2014
> Exhibit Hours: 9 a.m. - 5 p.m. Sunday through Tuesday; 9 a.m. - 3 p.m. Wednesday }
> Contact: 571-612-3200 or www.packexpo.com