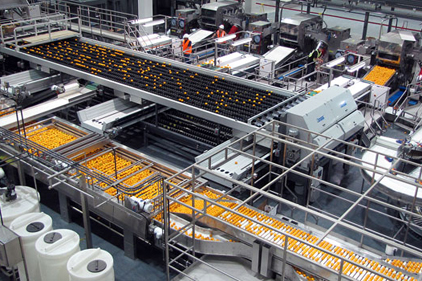 A new study from research firm MarketsandMarkets reports the fruits and vegetables processing market will be worth $240 billion by 2019.
Researchers say the fruit and vegetable processing industry is being driven by growing consumer demand for healthy and fresh products that are available, and require minimal preparation time.
According to the report, growth is expected particularly in the frest cut and frozen products segment. Asia-Pacific is projected to grow at the highest compound annual growth rate because of the rise in standard of living and an increase in the demand for convenient products like ready-to-eat salads, soups and frozen products.
MarketsandMarkets identified General Mills, Campbell Soup Company and ConAgra Foods, Inc. as key active players in the processed fruit and vegetable market during the review period of 2009 to 2014.
The fruit and vegetable processing equipment market is driven by the advancement in processing technologies and growing investment for research by key companies. The research firm says the Asia-Pacific region is estimated to be the largest processing equipment market for fruits and vegetables in 2014.
Leading players in the processing equipment market for fruits and vegetables identified in the report include Bosch Group, GEA Group AG, Krones AG, Bühler Group and JBT Corporation.
The report, titled "Fruit & Vegetable Processing Market by Product Type (Fresh, Fresh Cut, Canned, Frozen, Dried, Convenience), Equipment (Pre-processing, Processing, Washing & Dewatering, Filling, Seasoning, Packaging), Operation & Region - Global Trend & Forecast to 2019," can be found here.