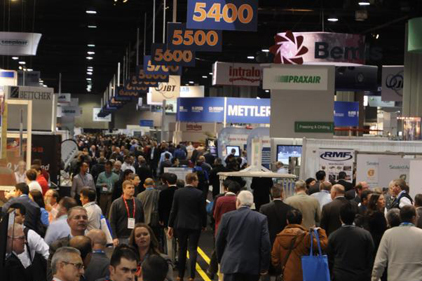 The 2015 International Production and Processing Expo (IPPE) held in Atlanta this week has eclipsed previous shows in terms of registrants and exhibitors.
After an ice storm in Atlanta last year froze out attendees, IPPE organizers say more than 30,000 poultry, meat and feed industry attendees flocked to the Georgia World Congress Center this week to interact with the 1,288 exhibitors covering more than 490,000 net square feet.
The expo, sponsored by the US Poultry & Egg Association, American Feed Industry Association and North American Meat Institute, is the world's largest annual poultry, meat and feed industry event of its kind.
"This year's record-breaking size and attendance numbers are a testament to IPPE's unparalleled education sessions, numerous networking opportunities and unique exhibits. The decision to consolidate three trade shows has produced an annual event that is greater than the sum of its parts," the three organizations said. "The enthusiasm and energy displayed by this year's attendees and exhibitors will only ensure the success and growth of future Expos."
 At the show exhibitors demonstrated innovations in equipment, supplies and services utilized by firm in the production and processing of meat, poultry, eggs and feed products.