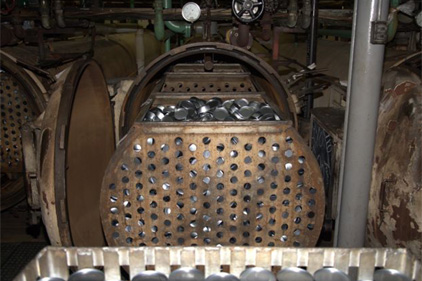 California prosecutors charged Bumble Bee Foods LLC and two employees Monday with willfully violating worker safety rules in relation to the 2012 death of an employee who was cooked to death after being trapped in an industrial oven.
"We take worker safety very seriously," said Los Angeles County District Attorney Jackie Lacey. "For the past year, prosecutors and investigators from my office have begun rolling out to major industrial incidents involving serious worker injuries and death. Our goal is to enhance the criminal prosecution of workplace safety violations. Although the Bumble Bee investigation began in 2012, this case represents our commitment to protecting workers from illegal – and, potentially, deadly – on-the-job practices."
Bumble Bee and two company managers were charged with three felony counts each of an Occupational Safety and Health Administration violation causing death, according to the Los Angeles District Attorney's office.
On Oct. 11, 2012, the victim, a 62-year-old Jose Melena who worked with the company for six years, entered a 35-foot-long cylindrical oven at the company's Santa Fe Springs, CA plant. This was done as part of his job duties which included loading carts of tuna cans onto a track to be pushed into the oven for sterilization. Unaware Melena was inside the oven, coworkers noticed his absence and completed the task of loading the carts. Melena became trapped in the back of the super-heated, pressurized steam cooker when the 12,000 pounds of tuna was pushed into the oven, sealed and turned on. During the two-hour heat sterilization process, the oven's temperature reached approximately 270 degrees.
When coworkers realized Melena was missing, an announcement was made on the intercom and a search of the property began. Employees found his body two hours later after the pressure cooker was turned off and the back outlet was opened.
In a statement issued by Bumble Bee sent to LA Weekly, the company says "We remain devastated by the loss of our colleague Jose Melena in the tragic accident that occurred at our Santa Fe Springs plant in October 2012. Bumble Bee added it has cooperated with officials and found no willful violations.
"We disagree with and are disappointed by the charges filed by the Los Angeles District Attorney's Office," the company said.
If convicted, Bumble Bee could be fined up to $1.5 million and the two employees face a maximum sentence of three years in prison and/or a $250,000 fine.
 The case continues to be under investigation by the California OSHA Bureau of Criminal Investigations.