Processing
Tech Update
Tech Update: Sterilization - Better processes, healthier foods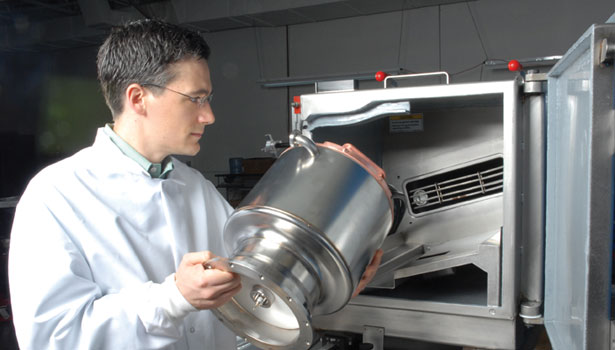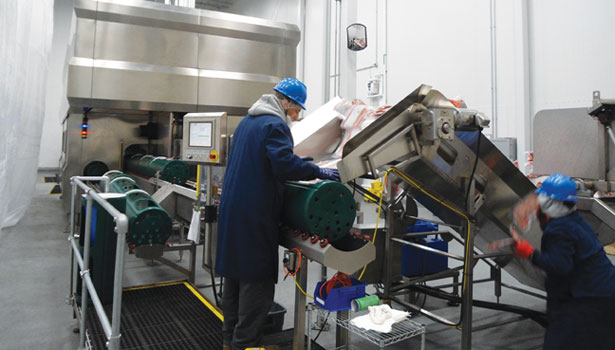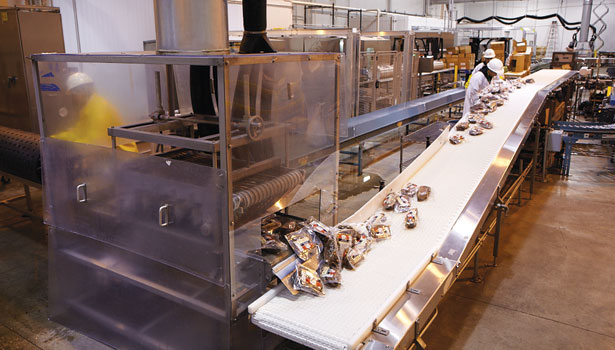 When it comes to nonthermal sterilization of food and beverage products, a big, round number applies: zero.
Alternatives to heat and chemicals are available to sterilize food packaging materials. Indeed, the available options continue to grow. But retort and aseptic processes are the only approved methods for sterilizing human consumables, and both rely on heat.
A decade ago, excitement surrounded high-pressure processing (HPP) as a possibility for nonthermal sterilization, but scientific studies soon dispelled that notion. Squeezing the life out of microorganisms is a slam dunk, but there is only one known way to destroy spore formers that lie dormant during processing and spring to life later—notably Clostridium botulinum, the pathogen that thrives in a sealed container—and that is with heat.
Scientists at the National Center for Food Safety and Technology (NCFST) discovered early on in their research on HPP that temperature increases in tandem with pressure. Depending on the product's density and composition, a temperature increase of 21°-63°C/70°-145°F might occur at a pressure of 700 MegaPascals, or 125,000psi. That is significantly higher pressure than what commercial food presses operate at, which means higher maintenance costs and machine failure rates.
Major funding for NCFST's research into HPP in the last decade came from the US Department of Defense, since the army is keen to improve the quality and nutritional value of MREs. When pressure is released in an HPP vessel, food quickly returns to room temperature, resulting in less destruction of vitamins and amino acids and improved flavor compared to retort. Goaded by their patrons at the US Army Natick Soldier Research, NCFST successfully petitioned FDA two years ago for approval of pressure-assisted thermal sterilization (PATS), a process combining heat and pressure to render low-acid foods shelf stable.
"It's still a goal," Christopher Doona, a Natick scientist who currently chairs the Nonthermal Processing Division of the Institute of Food Technologists, says of PATS, though seal failure and delamination of packaging materials remain major challenges. Research continues at Ohio State University and other food science centers, but in the near term, improvements in MREs likely will be realized by the use of in-container sterilization by microwave (see "
Supply chain sweet spot
," Food Engineering, March 2012).
PATS may join retort and aseptic processing for food sterilization in the next decade. In the meantime, HPP is taking hold as a pasteurization technology that enhances food safety and creates new products with superior taste and nutrition. Many of the nation's largest food manufacturers now utilize HPP, and the technology is enabling entrepreneurs to build successful businesses, some with little or no previous experience in food production. An example is Justin Guilbert, who worked in the cosmetics industry prior to the formation of Harmless Harvest Inc., a New York-based enterprise that began rolling out its 100 percent Raw Coconut Water last September, sold exclusively at Whole Foods stores. The product quickly established itself as the Northeast's biggest seller in the fastest growing segment of the functional beverages category, according to Guilbert.
Hailed for its health benefits, coconut water is a low-acid and extremely sensitive fluid, making it a prime candidate for aseptic processing and packaging. In fact, Guilbert and partner Douglas Riboud tested aseptic with Tetra Pak after rejecting conventional pasteurization as too destructive to the water's delicate flavor and volatile compounds. Aseptic was an improvement, says Guilbert, but the entrepreneurs still weren't satisfied with the results, opting instead to produce a refrigerated drink built around HPP and priced at about a 25 percent premium over aseptic alternatives.
Harmless Harvest sources coconuts and processes them in Thailand, then ships the bottles frozen to the United States prior to pressure treatment. Even refrigerated, raw coconut water would only have a two-day shelf life, explains Guilbert. With HPP, up to 60 days is easily achieved, and all the nutrition is retained. And while there is a learning curve for both consumers and retailers on the benefits of HPP, "pressure is not a word that creates fear," he adds. "It's reassuring."
Value-added process
High-pressure technology has been used commercially for 60 years. The earliest applications involved synthetic diamond production and densification of metals, with pressure removing air to create stronger alloys for critical wear parts in jet turbines, for example. Food applications began 20 years ago, but only in the last decade has the durability of HPP reached a point where the equipment can withstand the repeated cycles required for food production without excessive downtime. Now the focus is on reduced maintenance and more powerful pumps to reach the pressure set point faster and reduce batch time.

Food applications only account for a third of the presses sold by Avure Technologies Inc., but the number is swelling to close to 300 HPP units, calculates Pat Adams, president of Franklin, TN-based Avure, the HPP pioneer. That's up from only 124 food presses in 2008 and 41 a decade ago. More than $3 billion worth of food products was pasteurized with pressure last year, Adams estimates.

Avure calculates HPP for food is growing at a 24 percent annual clip, with about 260,000 tons of product treated last year. Throughout the early and mid-2000s, applications were sporadic, with only one unqualified success story: Avomex Inc., the Fort Worth, TX food company that revolutionized the avocado business with its extended refrigerated shelf life product, Wholly Guacamole. Doing business as Fresherized Foods in recent years, the company was acquired in August by Hormel Foods.

Guacamole dominance gave Avomex the financial resources to purchase more than a dozen HPP presses and gain an intimate understanding of the technology. Other food companies struggled with both the cost and familiarity issues, but those barriers eased in 2005, when former executives at Milwaukee's Emmpack Foods founded American Pasteurization Co. (APC), the first HPP tolling service. "We were the lone ranger, and it's gratifying that it's finally gotten traction," reflects Justin Segel, CEO. "Five years ago, I wasn't looking like a shrewd businessman," when uncertainty shrouded HPP's outlook, he allows. Today, the company operates four HPP presses and anticipates a fifth line later this year as demand escalates.

Initially viewed as a cost, high pressure now is seen as a value-added step, Segel says. Food safety is only one value component. HPP also allows manufacturers to remove sodium and preservatives and present a clean label to the public. It addresses manufacturers' interest in moving products out of the freezer and into the less costly refrigerated cold chain. And extending shelf life can be particularly valuable. Fresh meat suppliers, for example, must accept marked-down prices as the out-of-code date approaches, a significant cost, Segel points out. Organic ready-to-eat and fresh meats were the first products processed by APC, but "we're seeing more mainstream products" now, he says, such as cold-pasteurized juices.

Among the 45 companies working with APC is Cargill, which introduced "Fresher" brand hamburger patties for foodservice last year. Cargill also started pressure-treating ground turkey chubs in September after recalling more than 36 million lbs. produced at its Springdale, AR facility. High pressure denatures some meat proteins, resulting in a color change that could be a problem at retail but is a nonfactor in Fresher patties bound for foodservice. With turkey, dark meat takes on a lighter color, which makes it a more appealing product.

Several other HPP tolling services have begun operations in the last two years. Three of them are associated with cold storage warehouses operated by Millard Inc., Castle & Cooke and Universal Cold Storage. Those types of food-logistics operations have played an incubation role for pasteurization technology in the past: When Titan Corp. opened its first irradiation center under the Surebeam umbrella 12 years ago, it was in space leased from Cloverleaf Cold Storage in Sioux City, IA. Although Surebeam's business proposition as a meat safety intervention was unsuccessful, Avure's Adams predicts irradiation ultimately will be accepted as an effective technology to destroy food pathogens. "It's efficient, it does kill pathogens, and it's going to be embraced when nuclear energy is embraced," says Adams, who headed the food safety division of IBA before joining Avure. In fact, irradiation attracted a score of applications in the 18 months prior to last year's tsunami that destroyed Japan's Fukushima Daiichi nuclear power plant. The disaster relegated food irradiation to the back burner of food safety interventions for now, but "in five to 20 years, it will be embraced," Adams predicts.

Guess who's coming to dinner

HPP tolling services were few and far between when Harmless Harvest's Guilbert began researching the technology. A chance meeting at a dinner party with Jaime Nicolas-Correa, a principal at Hiperbaric USA Corp., was his first exposure to HPP. The meeting ultimately led to a contractual relationship between Harmless Harvest and Millard, which cold pasteurizes the coconut water at its Allentown, PA facility.

"HPP is an emerging industry trend," Tim Smith, a Millard senior vice president, says in explaining Millard's rationale for getting into HPP tolling. "It's certainly not an application for everybody, but there's a fair amount of interest, and we can take transportation out of the [cost] equation." A second press is being installed in Allentown, and Millard facilities in the Midwest and on the West Coast soon will be equipped with HPP lines.

Millard's units are from Hiperbaric, which maintains an R&D center at its Burgos, Spain headquarters. The center is experimenting with high pressure and heat to achieve sterility, though commercial applications remain in the distance. "I think we'll see something," says Nicolas-Correa, "but it's taking longer than expected."

New options for sterilizing packaging materials, on the other hand, exist in the here and now. "Sterilization with gases is coming on stream," notes Joseph Dunn, president of NanoMed Technologies Inc., Geneva, IL. Vaporized hydrogen peroxide, for example, is gaining acceptance as an alternative to gamma radiation of bag-in-box containers. Chlorine dioxide gas is a promising alternative to hydrogen peroxide and peracetic acid for sterilizing packaging film.

Low-power electron beam is another emerging package sterilization technology. However, surface penetration is very limited, which is why Wilmington, MA-based Advanced Electron Beams developed a probe that is inserted into plastic bottles to sterilize food contact surfaces prior to filling. Penetration is only 200 microns, according to Brian Phillips, vice president-sales, but that is sufficient to destroy several layers of microbes, which typically are 20-40 microns thick. Last summer, Hitachi of Japan introduced an electron-beam system incorporated into an aseptic filler rated at 600 half-liter bottles a minute. Phillips expects other filler OEMs to offer e-beam sterilization as an option this year. "In the very near future, the cost to do e-beam will be the same as the chemical-based systems, and the operating costs will be significantly less," he says. Elimination of water and chemical use addresses manufacturing sustainability concerns as well.

"Everybody is looking into greener applications," agrees Wilfredo Ocasio, a research scientist at the National Food Lab, Livermore, CA, though there are concerns that the irradiation dosage needed to commercially sterilize some packaging materials, particularly closures, could result in container failure after filling. "The existing data on needed dosage is a little murky," Ocasio says, and a better understanding of the bioburdens that exist and the log reductions necessary is needed before sterilization with irradiation can be deployed for low-acid aseptic.

Aseptic processing equipment also is getting greener, though the changes are manifested not in the materials used but in reductions in waste. Three years of research into the causes of heat exchanger fouling at high temperatures led to the introduction of mixers under vacuum to reduce the amount of air incorporated into an aseptic product, according to Jean-Pierre Berlan, vice president of sales at Tetra Pak Inc.'s Toronto office. "We can now stabilize the proteins before they reach the highest temperatures," he adds, thereby keeping heat exchanger surfaces cleaner.

The aseptic equipment company also has altered the way water is introduced and controlled when flushing lines during changeovers. "By using the right instruments and having the valves actuated properly, losses can be reduced significantly," says Berlan. Processors that were losing up to 300 gallons of product during each changeover have lowered those losses to below 50 gallons.

The raw and uncooked

While fresh meat suppliers can use high pressure to pasteurize, HPP is not a viable option for fresh produce. Yet public health calamities involving cantaloupes, spinach and other ready-to-eat fruits and vegetables are cropping up with regularity. That has provoked a flurry of new technologies aimed at reducing the likelihood of contaminated products reaching the market.

Gas applications in the field and sanitizing alternatives to chlorine are being tried by fresh-cut produce companies, with mixed results. Earthbound Farm set a goal of a 5 log microbial reduction in the wake of the 2006 spinach contamination with E. coli O157:H7. While such a reduction is claimed for some of the new sanitizers, "when you get it on the production floor, it's 2 log, at best," according to Will Daniels, senior vice president-food safety at San Juan Bautista, CA-based Earthbound. Combining a more effective rinse with high-power ultrasound, on the other hand, could produce synergies to help reach the 5 log goal. When Daniels learned about basic research on ultrasound at NCFST, "I was intrigued," he says.

Scientists at NCFST, which now is part of the Institute for Food Safety and Health (IFSH), Bedford Park, IL, linked Daniels with Cavitus Pty Ltd., an Australian firm that builds a cavitation device that can generate millions of micro-bubbles that then burst and dislodge biofilms on leaf surfaces. Coupled with a more effective sanitizer, the technology could deliver a one-two punch that, while not achieving a 5 log reduction, could enable Earthbound to reach its objective when combined with other interventions.

Earthbound contributed a wash flume to IFSH's Biosafety Level III facility to duplicate a real-world operating environment. The BSL III facility is one of the few laboratories where inoculations using pathogens, rather than surrogates, can be done. Daniels expects to complete trials with new sanitizers and ultrasound by mid-year and begin applying the technology in an Earthbound production plant later this year.

Produce sterilization already exists in the form of canned spinach and similar products. But the availability of pasteurized fresh produce, or fresh meats for that matter, is a processing breakthrough that would have been considered unthinkable in the not-so-distant past.


For more information:

Brian Phillips, Advanced Electron Beams, 978-658-8600, bphillips@aeb.com

Justin Segel, American Pasteurization Co., 414-332-4400, justin.segel@pressurefresh.com

Pat Adams, Avure Technologies Inc., 615-224-2600

Jaime Nicolas-Correa, Hiperbaric USA Corp., 305-846-9848, jaime.nc@hiperbaric.com

Tim Smith, Millard Inc., 402-880-0894, tim.smith@millardref.com

Joseph Dunn, NanoMed Technologies Inc., 815-979-9749, jdunn@nanomedtechinc.com

Wilfredo Ocasio, National Food Lab, 925-551-4231, ocasiow@thenfl.com

Jean-Pierre Berlan, Tetra Pak Inc., 905-780-4986, jeanpierreberlan@tetrapak.com






I want to hear from you. Tell me how we can improve.