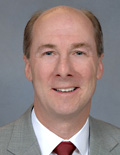 Tom Egan, vice president, industry services, PMMI.
Effective track-and-trace solutions are critical to ensuring products get to where they're supposed to go while also showing where they've been. With the onset of new regulations under the Food Safety Modernization Act (FSMA), the ability for manufacturers to map product origins is more crucial than ever. And as the supply chain speeds up, it can be more challenging for brand owners and suppliers to track product details from farm to fork. "This rapid pace of operations—and the complexity of today's supply chain—make efforts to streamline communication between different track-and-trace tools essential to regulatory compliance and the success of brands," says Tom Egan, PMMI vice president, industry services.
Today's supply chain is too sophisticated to track and trace product manually. Most manufacturers keep their data digitized within their own business operations. Still, efforts to recreate a product's lineage in the event of a problem can be exhausting on time and resources. Adding to the challenge is the vast array of product varieties (different flavors, portion sizes, ready-made meals with lists of ingredients for multiple products, etc.) that increase the number of SKUs to be tracked, according to Egan.
"Using the example of a ready-made meal, consider the process a private-label or national brand owner must go through to prove the integrity of its products to regulatory officials," says Egan. "The owner must obtain data from suppliers of each meal component, including the many ingredients in the finished product. This owner must also maintain supplier data about the packaging material and the production line that processed and packaged the ready-made meal. Each layer multiplies the number of parties that must report."
The problem is that many systems are not linked with one another to efficiently create a seamless product lineage. Manufacturers that are vertically integrated and own the processing and packaging of the product will already be linking supplier tracking information to the same system. However, manufacturers that do not operate their own facilities may find it harder to ensure all parties adopt a single system and must then employ one of two other options: They collect—and link—the data themselves, or they enhance the visibility among different systems, according to Egan.
If the brand owner chooses to link the data from the different systems, it must ensure the data within its own system is accurate and then how and where to link the other systems. This process varies depending on how much information each player finds necessary to share and what kinds of tracking system each uses. The interoperability of systems to communicate and share data is a goal worth pursuing but one that is not without technical challenges, advises Egan.
"Increasing the visibility between several systems is another option. Familiar tools and technologies, such as cloud-based systems, can help," explains Egan. "However, additional security measures must be taken to protect data stored on the cloud, and concerns about security have contributed to reluctance on the part of some manufacturers to integrate this technology in production. Trust between the end-users and suppliers is critical as well."
Amid a more rigorous regulatory environment, track-and-trace systems will continue to evolve, prioritizing accuracy, transparency and speed. But the methods will vary. Whether brand owners and suppliers opt to link chains or adopt a cloud-like infrastructure, it is certain they will streamline the process of proving product lineage, says Egan.
Brand owners and other food and beverage manufacturers looking for the latest ways to streamline communication between track-and-trace technologies can look to PACK EXPO International 2012 (October 28 – 31; McCormick Place, Chicago) as a resource. For more information on the 1,800 solutions providers and the systems they'll display—or for details on discounted registration—visit www.packexpo.com.