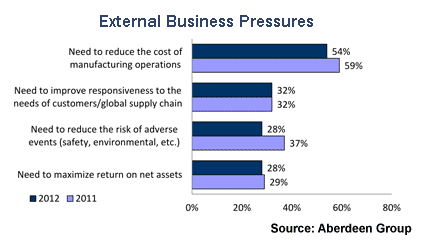 Processors felt a little less external pressure in 2012 than they did in 2011, but they are focusing on integrating disparate networks and getting real-time views of the process and supply chain. Source: Aberdeen.
Manufacturers face a variety of external pressures, but the primary one is to reduce the cost of manufacturing operations, according to Aberdeen Group. Other pressures include the need to improve responsiveness to the needs of customers and the global supply chain, the need to reduce the risk of adverse events (safety, environmental, etc.) and the need to maximize return on net assets.
According to the group's Analyst Insight, Industrial Networking: Real-time Foundation for Manufacturing and the Enterprise, senior management of large manufacturers felt a little less external pressure in 2012 than they did in 2011. While some of the pressure is off, the need for timely and informed decisions, enabled by making real-time data available to more people in more locations, is becoming a must—though not always an easy task.
But the lack of visibility of this data is becoming less of a problem as manufacturers find solutions to networking issues—the largest of which seems to be finding ways to consolidate their disparate networks. Many manufacturers are managing multiple networks, which means engineers must have multiple skill sets and software that often accomplishes the same tasks, according to the research.
Having many systems is an even bigger issue, requiring extra work to aggregate, move and analyze all the information. In a cost-conscious environment, manufacturers are seeking to continuously improve efficiency and drive down costs for existing facilities and processes. Also, the need to improve data security has jumped from 18 percent in 2011 to 20 percent in 2012. Network outages are intolerable and can pose risks to manufacturing assets, people and processes.
However, some of the same issues still remain for processors when it involves plant engineers working with the IT group. Interviewed for the report was Gerald Beaudoin, automation project manager, Leahy Orchards, who says, "Networking has allowed the capture of plant floor data and enabled us to achieve better equipment performance … There were sometimes issues with IT as they were doing the procurement. IT frequently had a hard time grasping the concept of shop floor configurations, such as fixed IP addressing, etc."
According to the Aberdeen report, manufacturers' top strategy should be deploying industrial Ethernet as business needs justify. While it's beneficial to reduce hardware and network management costs, manufacturers need to look at other important issues:
Better integration of plant floor and enterprise networks to improve visibility into manufacturing operations
The ability to implement wireless and mobility solutions on the plant floor
Reducing the risk of security threats on the industrial network
Incorporating SOA (service-oriented architectures) to build integrated processes between manufacturing, business, suppliers and customers.
For more information on the Aberdeen Analyst Insight on Industrial Networking, visit the Aberdeen website.