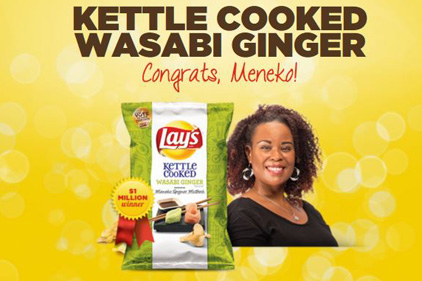 After three months of competition, Lay's Kettle Cooked Wasabi Ginger was announced as the winner of the 2014 "Do Us a Flavor" PepsiCo contest.
The winning flavor received the highest total votes from consumers, beating out the other finalists: Cheddar Bacon Mac & Cheese, Mango Salsa and Cappuccino. The Wasabi Ginger flavored chips earned their place on store shelves and will remain a staple of the Lay's portfolio. Lay's representatives said the other finalist flavors may be brought back for a limited time because of positive consumer response.
Meneko Spigner McBeth, who submitted the idea for Lay's Kettle Cooked Wasabi Ginger flavored chips, will take home a $1 million grand prize or one percent of her winning flavor's net sales through July 1, 2015 (whichever is higher).
"The response to this year's contest has absolutely blown us away," said Ram Krishnan, senior vice president and chief marketing officer, Frito-Lay North America. "It is clear our fans are not only passionate about flavor, they are also eager to weigh in and share their ideas for the flavors we bring to market next."
PepsiCo has held the "Do Us A Flavor" contest in numerous countries with consumers suggesting millions of ideas for chip flavors around the world. This competition was the second time Lay's brought the competition to the US.
Because of the "Do Us a Flavor" promotion, PepsiCo, Inc. was honored with the Grocery Manufacturer's Association 2014 CPG Award for Innovation and Creativity. The award is given annually to companies that have demonstrated creativity, innovation and have made a significant impact on the industry knowledge base.
GMA praised the innovative way the promotion engaged millennial consumers by allowing them to immerse themselves in the brand in new ways while returning to Lay's core values of taste and flavor.